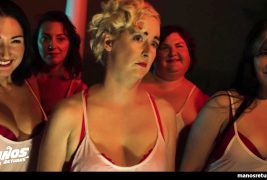 Manos: The Hands of Fate is a notorious, weird, cult-to-the-core favorite so it's odd that a sequel has been 50 years in the making.  What's not odd is that the incredibly talented Seattle-based filmmaker, and Ravenous Monster's own, Tonjia Atomic is at the helm.
The good folks behind the scenes of this freaky flick entitled Manos Returns have unloaded a ton of info in a recent press release.  Watch the trailer and read the full press release below, Horror Fans….
The producers are proud to announce the cast of Manos Returns, a sequel to the cult classic Manos – The Hands of Fate. The legacy cast features Jackey Neyman Jones (Debbie), Tom Neyman (The Master) and Diane Mahree Rystad (Maggie) reprising their roles from the original, plus Bryan Jennings, the son of Manos cast member William Bryan Jennings, taking over his father's role as The Sheriff. They are joined by newcomers Danielle Daggerty (Clara), Christina Pezzo (Nicki), Nuria Aguilar (Pat), Christopher Barnes (Jay) and Steven Sheilds as Torgo.
Directed by award-winning Seattle filmmaker Tonjia Atomic (Plain Devil, Hobo with a Trashcan), Manos Returns takes place 50 years after the action of Manos – The Hands of Fate. Four friends get lost on a road trip and stumble on a hidden cult lead by the sinister Master and his servant Torgo. As they try to escape, they are caught up in the power struggle between Debbie (given to Manos as a child 50 years ago), her mother Maggie, and the other souls twisted by their time serving the dark god.
Like the original, Manos Returns has a full complement of Brides for The Master: Rachel Jackson, Bryn Kristi, Tonjia Atomic, Nina Nightshade, Stephanie Lunceford and Emily Watson. Ghosts haunting Valley Lodge are led by cult movie favorite George Stover, with Marlene Cox, Myron Jenkins, Milton Jenkins, Ygal Kaufman, and Robert H. Olin rounding out the cast.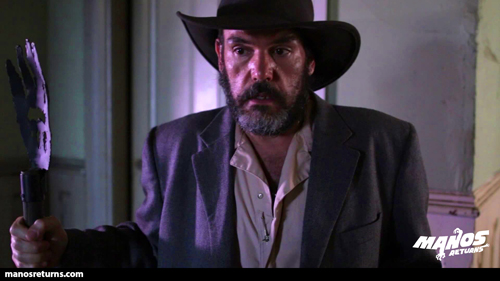 Principle photography for Manos Returns took place in Falls City, Oregon in July, after raising production funds via a successful Kickstarter campaign earlier this year. Kickstarter backers Darlene Darwin (Sheriff's Deputy), and Derek Singer and Greg Tally (ghosts) appear in the film as part of their rewards.
One thing The Master would especially approve about the new production is the number of women involved: three of the four producers, all three screenwriters, and 13 of the 24 cast members are female.
"The new script centers quite a bit on the female characters," said Atomic. "We didn't plan it that way, but once we asked ourselves how we could give the women a little more agency than they had in the original it just evolved really naturally in that direction."
Manos Returns is currently in post-production. Screening dates have yet to be announced. Manos Returns is produced by Jackey Neyman Jones, Tonjia Atomic, Joe Sherlock and Rachel Jackson.