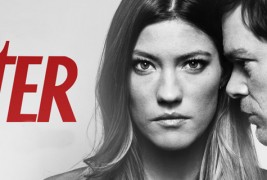 The seventh season of Showtime's flagship series Dexter is now in the rearview mirror. So how was the trip, you ask? While we weren't subjected to the crash-n'-burn fireball catastrophes that were the previous two seasons, the road this year still has its fair share of bumps and potholes. Overall, though, it's a fun ride.
For those of you who've just crawled out of a cave, Dexter stars Michael C. Hall as Dexter Morgan – a blood spatter analyst in Miami Metro's homicide unit and a psychopathic serial killer who murders without conscience. He also happens to be the show's protagonist by virtue of a "moral code" instilled in him by his adoptive late father Harry Morgan (James Remar), who recognized the early signs of Dexter's compulsion to kill and subsequently taught him to only do so to those who deserve it.
This set up has yielded fascinating results through the years as we've watched Dexter match wits against other, less sympathetic homicidal maniacs. The series has been a study in duality, specifically Dexter the family man vs. Dexter the serial killer. This dynamic was eliminated by the resolution of the outstanding fourth season which removed Dexter from the family context. Unfortunately, the series suffered mightily for it the following two seasons as the writers seemingly struggled to replace this rather large and integral facet of the drama. This season, however, things mostly get back on track as the series establishes and explores a new dichotomy for its titular character.
When last we saw Dexter, his adoptive sister, Police Lieutenant Debra Morgan (Jennifer Carpenter), had just caught him red-handed (literally) in the act of murdering a serial killer named Travis Marshall (Colin Hanks). Season Seven begins in the tumultuous aftermath as Debra, the daughter of a career law enforcement official and a fast rising one in her own right, is shocked, hurt, devastated – all of the above at the revelation that her own brother is a prolific serial killer who's been operating under her nose for most of their lives. Despite these emotions, she helps Dexter cover up the crime.
Meanwhile, homicide detective Mike Anderson is gunned down on the side of the road while attempting to offer assistance to his eventual assailant. This murder of one of their own leads Miami Homicide to a strip club run by Ukrainian mobsters, but not before Dexter finds out whom specifically pulled the trigger and subsequently kills him. When Deb puts the pieces together, she perceives his undermining of her police work as the basis for yet another front of Dexter's multifaceted betrayal. More importantly to the plot, though, Dexter's vengeance-killing lands him squarely on the radar of Isaak Sirko (Ray Stevenson), a dangerous lieutenant for the aforementioned Ukrainian gangsters with his own penchant for killing.
Elsewhere, convicted serial killer Wayne Randall decides to tell Miami Homicide where he hid the bodies of his victims fifteen years ago. After putting on a bit of a dog and pony show, Randall escapes long enough to run into the road and get killed by a truck, leaving Miami Metro with no bodies other than his own. Soon though, Randall's mother provides the evidence necessary for detectives to find and recover a set of Randall's victims' remains. An examination of these remains suggests that Randall didn't kill alone. All signs point to his young girlfriend at the time, Hannah McKay (Yvonne Strahovski) who agrees to meet with detectives.
At first Dexter is intent on doing his thing – setting up a kill room, drugging Hannah, and killing her. To make sure he gets that opportunity, Dexter fudges the sections of the new evidence report that implicate Hannah in the murders, once again undermining Deb's police work. When his killing moment inevitably occurs, he bails on the murder and instead Dexter and Hannah embark on a passion fucking expedition on what would have been her death bed. This is one of the season's most eye-roll-inducing moments and one that very nearly cast it into another flaming ball of wreckage. Almost.
In a predictable development, Dexter and Hannah begin a romantic relationship, a move that appears to be another attempt at pairing Dexter with a romantic interest who's also a killer. A similar attempt was made in Season Five with Lumen (Julia Stiles), but it ultimately failed and resulted in several laugh-out-loud absurdities. This time the relationship works a bit better, although not by much. More importantly though, when Deb finds out about the budding romance between her brother and the blonde bombshell whom she knows is a murderer, it compounds her perceived betrayal by Dexter and utterly breaks her heart. Remember last season when the writers inexplicably decided to make Deb have romantic feelings for Dexter? Yeah, me too. Unfortunately so do the writers and this year as Deb confesses her secret and the whole thing nearly turns into a weird, creepy, dirty little tryst (continued after the pic).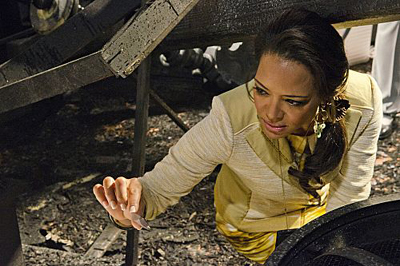 On a less icky, more compelling note, back at the start of this season Deb's boss Maria LaGuerta finds a blood slide – one of Dexter's iconic "victim trophies" – at the Travis Marshal murder scene. Back in season two, Dexter's slides and their corresponding victims had been falsely attributed to a killer known as the Bay Harbor Butcher – a killer that everyone in Miami Metro Homicide had been duped by Dexter into thinking had been killed. Believing the Bay Harbor Butcher is alive and well, LaGuerta begins quietly investigating her hunch and confiding her theories to Deb as well as the newly-retired Captain Matthews (Geoff Pierson).
Things come to a head when Isaak Sirko has Hannah kidnapped in an effort to blackmail Dexter while LaGuardia's noose tightens around the true identity of the Bay Harbor Butcher and cracks emerge in Deb's conflicted conscience about where her loyalties lie.  And let's not forget that Hannah McKay IS a killer, lest you mistakenly assume things go smoothly.
The season culminates in a way that can only be described as predictable and it does so by relying on way too many plot conveniences.  Even so, it still manages to remain successfully entertaining.
Again, this season is a pretty substantial improvement over the last two seasons. We're reintroduced to Dexter as a man who's always the tiniest step ahead of both those who would kill him and those who would arrest him. And this gap is continuously threatening to disappear as obstacle after obstacle is thrown at Dexter and the stakes climb higher and higher. This all makes for some damned riveting drama.
The elements of the season that don't work so well, while less egregious than they are in seasons five and six, are still many. For one thing, our antagonist Isaak Sirko is from the mold of a generic Bond villain. Stevenson's performance is a good one, but the character is written as a flat archetype and he isn't given a compelling dimension until very late in the season, namely a tangible motivation for seeking vengeance against Dexter for the murder of his associate. The revelatory episode is a great one, but by the time it comes it's too late to care much. As such, Sirko pales in comparison to villains past such as Season Four's Trinity Killer (John Lithgow) and Season Three's Miguel Prado (Jimmy Smits), which are two of the best bad guys in television history.
The other problem is the lack of development regarding Dexter and Hannah's romance. Again, similar issues have plagued the show since Trinity killed Rita at the end of Season Four. Rita and Dexter's relationship was expertly developed over four seasons and it was the engine that drove the show, again, Dexter the family man vs. Dexter the serial killer. The absence of this type of relationship has been an insurmountable void. Hannah's character and Strahovski's performance are both top notch, but it's difficult to buy Dexter's profound revelations and epiphanies by way of this relationship after only a handful of episodes. They're a byproduct of a plot necessity rather than a well-developed, organic extension of a character we know so well.
There are also some odd structural issues that result from when certain characters die and what effects those deaths have on the narrative arc. But aside from being a bit too spoilery, these issues are nits that aren't worth picking here to any extent. The bottom line is that after two abysmal seasons Dexter has done an admirable course correction and the trajectory for the eighth and final season is looking up.