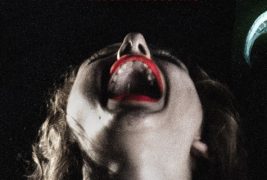 Upon seeing the trailer for German Angst from Artsploitation Films, I was excited. As you may know by now, I'm a sucker for a good horror anthology. Anyway, after seeing that there was an offering from Jorg Buttgereit (Nekromantik, Nekromantik 2) included, I became downright giddy as I'm a fan of his other works. The other two stories come from fellow German shock-horror directors, Andreas Marschall and Michal Kosakowski. Naturally, I assumed that I'd be treated to a trilogy of sick and depraved terror. So, exactly how shocked did German Angst leave me after I watched it? Sit back and read on.
FINAL GIRL:  The first story is writer/director Jorg Buttgereit's tale of an abused young girl, her beloved three-legged pet guinea pig and her not-so-beloved father. By the way, Pop happens to be bound, gagged and tied to his bed. This is the story that I was most looking forward to, and rightfully so. Buttgereit completely delivers, and fans of his will be pleased. We're treated to a voiceover throughout the segment from the young woman, telling us about the guinea pig and the procedure of amputation. Speaking of cutting things off, there's also a castration scene, though we only see the appendage in all its glory prior to the removal. The message of the story is strong, and the gore in this tale is plentiful. I think this was my favorite of the three stories, quite honestly.
MAKE A WISH: The second segment is from writer/director Michal Kosakowski. What he brings to the party is a past-meets-the-present with a touch of fantasy in this story of a young, deaf couple who are in love, and have immigrated from Poland to Germany. How sweet, yeah? Yeah…well, the sweetness of these two kids is quickly replaced by a flashback to 1943 in a Polish village that comes under attack by Nazis. Leaving nothing back, we get to watch the Nazis do their thing. However, thanks to a 'magickal' amulet coming into play, there's a bit of a weirdly cool twist thrown in. Snap back to the present, and our sweet couple is brutally attacked by a gang of racist psychopaths. I'm not going to lie, the violence and torment that the gang dishes out to the couple is intensely brutal. I found it similar to something from The Last House on The Left (1972).
ALRAUNE: So far, we've had the tales about love and death, so now we need the story involving sex. The final installment comes from writer/director Andreas Marschall. It starts out with a guy having a fight with his girlfriend, then planning a meet-up at a club with another someone he's only known online. What bad could happen, right? Well, the club where the meet-up happens is cool as shit—firebreathers and a gothed-out crowd, my kind of place. Anyway, the fella catches the eye of a lovely girl on a pole and they make friends and head to the bathroom to swap some spit and snort a few lines…and down the rabbit hole he falls. Without giving anything more away, this story basically has to do with making bad decisions. The pleasures of the soul may be the same things that destroy it. By the way, this one's got a nice amount of gore in it.
German Angst isn't going to be everyone's cup of tea. It's fantastically artsy, yet incredibly disturbing. I enjoyed it enough, but I don't know if I'd sit through it again just for the hell of it. Moments from the film will stick with me for a good while, I'm pretty sure. Anyway, it's out on Blu-ray now, so if you're so inclined, pick up a copy and give it a watch. Let me know what you think of it.