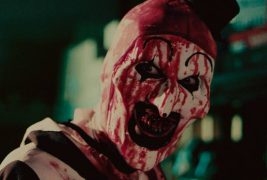 Whether they're killer ones from outer space, dancing or selling fried chicken, clowns are frighteningly memorable and nearly everyone has a love/hate relationship with at least one. In writer/director Damien Leone's Terrifier, the harlequin-styled Art the Clown (originally debuting in Leone's All Hallows' Eve [2013]) returns to give us a fantastically satisfying grindhouse gorefest that's not to be missed. So, without further ado, paint a smile on, kick your floppy-shoed feet up and follow me as I tell you more about the three rings of fun that you'll get with Terrifier.
THE STORY:
Terrifier doesn't have a complicated plot to follow, or any story really.  It's literally just about a couple of party girls, Tara (Jenna Kanell) and Dawn (Catherine Corcoran), being in the wrong place at the wrong time on Halloween night. Naturally, they become the targets of a homicidal yet oddly charming clown (brilliantly played by David Howard Thornton) who never says a word. We quickly find out that Art enjoys his line of work, as he keeps a gigantic bloody grin on his face as he paints the town red, literally.
THE GORE:
It's AWESOME. If you're a fan of violence and splatter gore, then you won't be disappointed with Terrifier. The blood flows strong with this one typified by some highly creative and disturbing kills that will leave you with that "what-the-fuck-did-I-just-watch?" feeling. Again, Art the Clown is just so delightfully entertaining that you kind of root for him to kill everyone off, and he'd happily oblige. As for the quality of the gore effects, it's all very well done, very enjoyable, practical effects. None of that shitty CGI here!  Also, the gritty, grindhouse overall look to the film adds that '80s slasher feel and that's always a welcomed thing.
THE WRAP-UP:
While I enjoyed Terrifier very much, it's not a perfect film. There are some pacing issues and the acting can tend to fall flat at times. I also would have enjoyed a little more character/story development. I'm sure that a sequel will be in the works, so hopefully some of the things that were left hanging will be addressed. All in all, Terrifier is a fun, refreshing take on the slasher film. We have a new horror icon and his name is Art the Clown. Damien Leone and David Howard Thornton are definitely a couple of names to pay attention to. I'm a fan!
If you want to watch the carnage for yourself, Terrifier is currently available in Redbox, streaming platforms and available to purchase on Blu-ray.