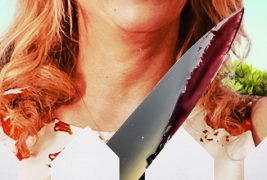 Homewrecker, the new movie directed by Zach Gayne and released by Uncork'd Entertainment, is a modern and stylish psychological thriller. The story is based around Michelle, an engaged woman with some hesitations, played by Alex Essoe (Starry Eyed, Doctor Sleep). Michelle is befriended by an older woman who invites her home after a shared exercise class. The visit soon turns into a cat and mouse game where secrets are revealed, and violence ensues.
The older woman, Linda, is embodied thrillingly by Precious Chong (Pearl Harbor, L.A. Confidential). Precious Chong is a joy to watch. Even though the other actors bring it to the table, Precious serves it up. Playing an aging, lonely woman stuck in a colorful 1980s past, she is captivating, unsettling, and even funny. There were times during the film when I felt like I've known real people like her. Where both actors shine were the moments when subtle red flags were raised, and social norms dictated politeness.
Linda becomes increasingly more dominating and manipulative, using those social norms against Michelle in the vein of Funny Games by Michael Haneke. Although not as taut a film as the grim Funny Games, Homewrecker is in some ways an easier watch. It is much more colorful overall and at times laugh-out-loud funny. Although there are moments of situational and character-based humor, the humor also holds an underlying darkness and an unsettling quality.
Throughout the film there is a casual, conversational acting style. Handheld camera movement and placement compliments the naturalistic acting and creates an air of voyeurism. There is a realism and real world feel that really compliments the story. The modern minimalistic soundtrack accentuates this as well. If you like psychological thrillers, if you like character-based horror, if you're a fan of dark humor, this is the film for you.