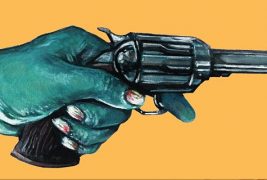 Joe R. Lansdale is the Mark Twain of genre fiction. I can't think of a more thoroughly American horror writer, with the possible exception of Ambrose Bierce. But for all Bierce's brilliance, his vision was sharply defined by unwavering misanthropy and cynicism. Lansdale, like Twain, has range. He's done horror, crime fiction, Westerns, comics, and non-fiction, with an emotional spectrum running from fear to humor to pathos. Poe and Lovecraft largely called back to the British horror tradition. Stephen King draws reliably and convincingly from his upbringing in small-town Maine, but Lansdale's writing is East Texas.
All Hail the Popcorn King, Hansi Oppenheimer's new documentary, gives the viewer a decidedly low-budget hour with Lansdale. Largely made up of interviews with Lansdale and his friends, family, and fellow artists, it feels more like a home movie than a polished studio production—which is the perfect way to experience his world. Popcorn King features a brief biographical sketch, an introduction to some of its subject's more famous and influential writing, and some other key influences on Lansdale as a person—politics, martial arts, and of course, East Texas.
He's a decidedly likable subject. Articulate but unpretentious, principled but nonjudgmental, folksy but authentic, listening to Lansdale feels like being at the local bar, listening to an old-fashioned raconteur holding court. He's the kind of guy you'd want to go fishing with, taking in all that wisdom over a cooler of beers and a can of nightcrawlers. I could happily have watched for another hour and a half.
Which is where Popcorn King's greatest strength paradoxically becomes its only significant flaw. It sometimes feels like Oppenheimer tries to squeeze too much into the film's short runtime. While it's interesting to learn more about Lansdale's upbringing, as a writer I wanted to hear more of his thoughts on his own work, on the genres he's chosen to write, and on his philosophy towards storytelling in general.  We hear about the greatest hits (the Hap & Leonard series, Bubba Ho-tep, etc.), but I wanted to get more into the weeds. If you came to Popcorn King knowing nothing about Joe R. Lansdale, you would come away liking him, but perhaps not seeing what makes him so unique as a writer.
And that might not be a fair criticism. Oppenheimer's documentary is clearly a labor of love, which she not only directed but wrote, shot, and produced. I can only hope she gets the chance to re-explore Lansdale's life and singular genius in a longer form.