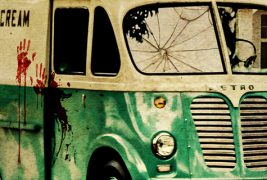 I scream, you scream, we all scream for…a movie seemingly centered around ice cream…and blood. What's better than watching such a movie on a hot-as-balls summer day?  Thanks to the fine folks at Uncork'd Entertainment, and writer/director Megan Freels Johnston, I was given the opportunity to do just that. After viewing the trailer for The Ice Cream Truck, I had a feeling that watching the entire movie would be an experience. Was the experience of the movie smooth and satisfying like a rich vanilla treat, or was it a rocky road all the way? Stick with me and read on.
First off, I should tell you that this isn't your typical horror movie. It's more of a dark comedy with touches of horror thrown in. It's an interesting offering to say the least. It definitely wasn't what I was expecting after watching the trailer, but I can appreciate what this film brings to the table. Megan Freels Johnston relies more on storytelling than on showing tons of blood and guts.
Basically, what we have is a story about a woman named Mary (Deanna Russo), who returns to her hometown due to her husband's job relocation. Mary doesn't seem too thrilled about coming back, and to make matters worse, she's to set up house in the suburbs. She arrives in the neighborhood ahead of her husband and children, who plan on joining her once school is out for the summer, and begins to set up their new digs.
While getting things squared away, she notices that there are strange things afoot in Suburbia. First and foremost, there's the foreboding ice cream truck that roams the streets. It's straight out of the 1950s and creepy, as is the mild-mannered, Good Humor-uniformed driver (Emil Johnsen). It should come as no surprise that the ice cream isn't the only thing that makes the neighborhood scream. You see, the ice cream man also swings a bloody scoop, and the occasional big knife, whenever the urge to kill random residents strikes him.
But wait, as if having a psychotic ice cream man roaming the neighborhood isn't bad enough, along come…the neighbors–perfectly plastic and painfully nosey. Can we say Stepford? The women of the suburbs are busybodies, and they're a little too excited to get Mary into their clutches. The awkward small talk that takes place between she and the neighbor women really doesn't give a great amount of insight as to what Mary's all about, but we find out just enough.
A bit later, we hear a speaker phone conversation between Mary and her husband and her kids, and it's stiff, instead of being spirited with the excitement of being together soon. After the conversation ends, there's a knock on the door, and there we see an intimidating figure who announces himself to be the furniture delivery guy (Jeff Daniel Phillips). Mary thinks it's odd that there's only one delivery guy, but she shrugs it off and lets him do what he needs to do.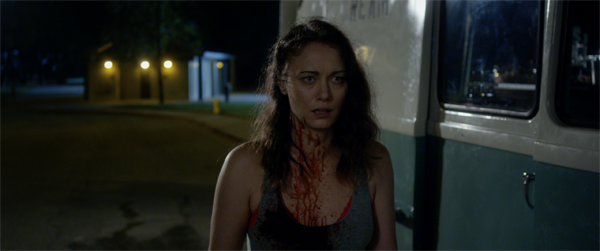 After a brief and awkward incident occurs between the delivery guy and Mary, the sudden arrival of three giddy neighborhood ladies at her door makes Mary forget about what had just taken place. The women are there to invite Mary to one of their kid's graduation parties to get her out of the house and show her a little bit of neighborly hospitality. She agrees to attend, saying that she hasn't been out by herself in 12 years because she had her babies too young in life, and plans are set in motion. Once the ladies leave, the smarmy delivery man comes out from some nook and cranny and tries to pick up where he left off with Mary, who eventually kicks him out of her house so she can get ready for the neighborhood shindig. As she's walking to the party location she meets Max, the hunky 18-year old guest of honor, along with his girlfriend. A little chit-chat between the three of these folks takes place before Max invites Mary to tag along to get high and have a beer before attending the party. Bring on the bad decisions.
Starting at this point, The Ice Cream Truck becomes a movie that's chock full of bad decisions, mostly made by Mary and the midlife crisis she's seemingly going through. Mary feels accepted and renewed by the young people who find her cool. For once, she doesn't feel like only a wife and mother. She feels attractive again because a boy who's only a few years older than her own son is wanting to dip his cone into her sprinkles.
WAIT! WHAT?! Isn't this supposed to be a movie about a crazy ice cream man riding around killing people?! Well, yeah, he makes an appearance here and there, and a few people DO get killed pretty brutally, but this is not the primary focus of this movie. Oh, before I forget, there's also a brilliant use of a milkshake blender during a climactic fight scene between Mary and the ice cream man towards the end of the movie. It's kind of like the cherry on top of…everything else that happens.
While I do wish there had been more involvement from Emil Johnsen and Jeff Daniel Phillips for more creep factor, Deanna Russo does a fantastic job carrying the movie, and it's still got a decent horror base.  It also has the feel of a Lifetime Network thriller. The dark comedic bits are tossed about in this story, and they're not all in-your-face obvious, which is nice.  I think overall The Ice Cream Truck is an original and engrossing movie.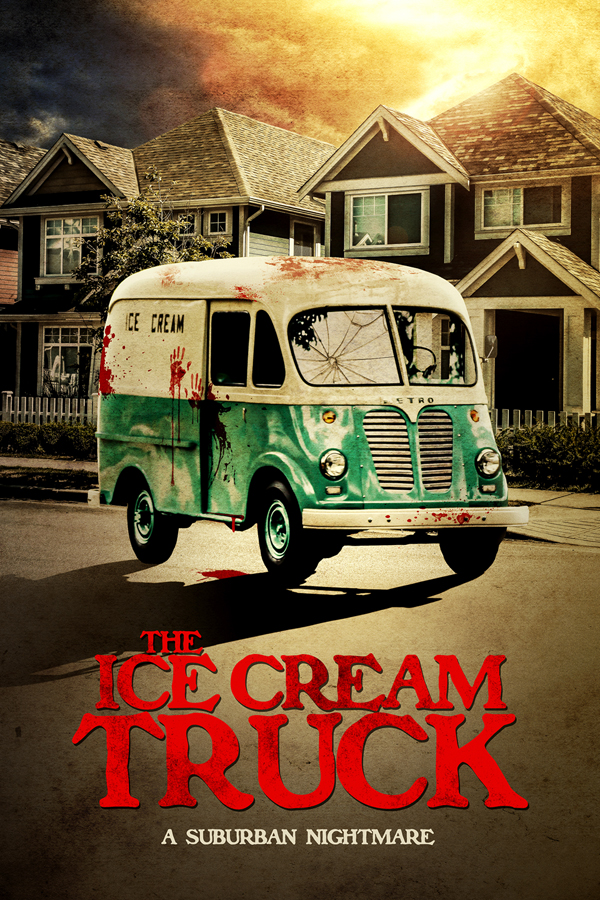 Be sure to chase down The Ice Cream Truck when it comes out in theaters and VOD on August 18!