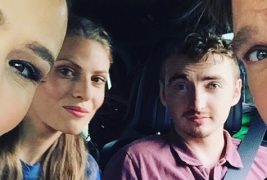 Director Andy Palmer's tale about reality TV ghost hunting gone wrong has some figurative heavyweights involved including producer Joe Dante (Gremlins) and star Danielle Harris (Halloween, Hatchet III).  With an intriguing if not wholly original concept and a topnotch cast and crew, Camp Cold Brook has the makings of an indie horror hit. 
Read the full press release below, Horror Fans….
Chad Michael Murray (House of Wax, TV's One Tree Hill) and Danielle Harris (Halloween, Hatchet III) will headline director Andy Palmer's Camp Cold Brook with a script from up and comer Alex Carl, writer-director of Reeves Road.
Produced by Warner Davis of Petri Entertainment, Gremlins alum Joe Dante and Mark Alan of Renfield Productions, and Jason Van Eman and Ross Marroso of Weathervane Productions, the movie tells of a reality TV crew that get more than they bargained for when they decide to film the next episode in the legendary Camp Cold Brook.
Reality TV producer and host, Jack Wilson (Chad Michael Murray), finds himself in a tough spot. His finances have crumbled and his show, "Haunt Squad", is about to be cancelled. In a last-ditch effort to spark ratings to land a final season, he and his producers Angela (Danielle Harris) and Emma as well as their trusted cameraman Kevin choose the legend of Camp Cold Brook to save their show. The camp was host to a horrific incident, where the young campers were drowned in a nearby creek 20 years ago.  Their arrival begins like any other episode. Cameras are placed, lights spark to life, but this is not going to be a regular episode of chasing errant noises and measuring for EVP. The terror here was real and the 30 are about to rise.
Courtney Gains (The Burbs, Children of the Corn), Michael Eric Reid (TV's Victorious), Candice De Visser (The Funhouse Massacre), Mary Kathryn Bryant (Hellraiser: Judgement), Loren Lodesma (A.S.K), and Jason Van Eman (1 Mile to You) help make up the ensemble.