It's no secret; Amazon may soon begin to rule the world of video accessibility.  For now at least, Amazon is giving its competitors a run for their money.  Since Amazon began granting "instant video" access to subscribers last year, renting, buying or uploading movies is a simple process, completed in just a few clicks.
Back in Amazon's early days, only about fifteen years ago, most people knew of Amazon as a relatively mediocre place where new or used books and other hard-to-locate items could be found.  Through the years, Amazon has rapidly expanded, making itself a fierce competitor in the lucrative entertainment business.  Movies and even television shows can be acquired from Amazon and seen via handheld devices, computers, compatible televisions, or other connection devices.
Some of the best news from Amazon is that now that the giant has opened its virtual doors to independent filmmakers; creators have the opportunity to have their works seen on a larger scale while also making a few bucks in the process.
I interviewed filmmaker and President of E-Nertia Global Productions Jason T Swinchock, whose entertainment company is seeing its own rise in this digital age.  Swinchock, a leader in business aspects who also possesses a humorous wit, knows firsthand just how Amazon can help the indie arts.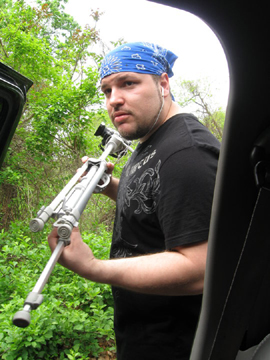 RavMon:  I'd like to start off with a little introduction first, some background about you for the readers of Ravenous Monster.
Jason:  Well, I have had a life-long passion for movies but I never really put much thought into actually making films until the last few years.  I have a Bachelor's degree in Math and Computer Science and I currently have a manager position at a company called Ritchey Metals.  Facing the eternity of working for "the man," I slowly began to chase the dreams of owning my own company based around arts and media with one of my best friends, Omar Brooks.  Over the last few years, that dream has slowly started building itself into a reality.
RavMon:   I'd like to know a bit more about your production company E-Nertia Global.  What exactly do they do, such as a mission statement? 
Jason:  Recently, we have shifted our focus from strictly movies and films to be more of an "entertainment" company. Whether entertainment means books, music, films, videos and/or photography, we are trying to be the leader and always stay on the edge of what we define as a blend of "avante-garde and attitude."  Based on the reception our works generally receive, I would say that we are succeeding in living up to our vision.
RavMon:  What kinds of productions have they done so far?  Amongst your works, what links you to the horror industry?
Jason:  Actually, we started off by creating a poorly produced sitcom/mocumentary comedy called Duncan Street Chronicles.  Duncan Street was our stepping stone and got our name out there.  It gave us a notorious reputation for being comedic despite lacking the production values and knowledge.  It was banned from a couple film festivals and I parlayed that into a positive light.  Our first "stab" at horror was our short zombie film, A Chemical Skyline, released October 2010.  Chemical actually started out as a Halloween special for Duncan Street but as it grew, it became so much more and we decided to go in a completely different direction with it. Our goal was to do something totally different than what we were used to doing. Instead of making people laugh, let's scare them…. Instead of cheap cameras and production values, let's spend some money.  Chemical has gone on to be our most wide-spread, commercially successful project although only receiving mixed reviews from critics.  As of right now, those are our two biggest.  We've also had a dozen or so short films and videos that consist of serious art, comedy, etc., all of which received positive feedback.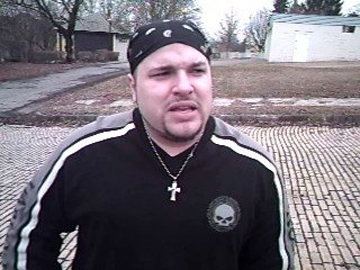 RavMon:   And how long has E-Nertia Global been operating in the arts/entertainment business?
Jason:  Omar and I founded E-Nertia Global in 2008. We have since split into two separate entities: Omar, being president of E-Nertia Global Systems, handles publications and promotions.  I run what is now known as E-Nertia Global Productions and focus on film and video.  We are also slowly making our way into photography.
RavMon:  Give us some memorable moments in filming, some of those moments that stand out for you the most.
Jason:  I can remember almost any time filming a Duncan Street episode and laughing so hard that we could barely get our lines out for the camera.  I also remember a specific part of A Chemical Skyline when my friend, Big James (James Wroblewski), busts through a barn door…. That was awesome…  Also, seeing my aunt in full zombie makeup dressed as an old lady- that's another memory I'll never forget.
RavMon:  Part of this article is also about the use of Amazon digital services, in particular "instant video," in regards to independent filmmakers.  I know that you are familiar with this.  Can you give me a brief summary of the actual process for those readers who have never done this before?
Jason:   A Chemical Skyline was actually put on Amazon.com digital service in February of this year (2011).  It was really easy in my opinion and I encourage everyone to put their work on Amazon.  When I did it, I got on that thing called the Internet- ever heard of it? (laughs) I logged into Amazon's "Createspace" service.  From there, I was able to upload my film, set prices, and make it available for purchase or rental or for both.  Within a day or two, it was live on Amazon.com.  Another thing which is nice is that all of the commission you make is figured on monthly reports, which, needless to say can make doing your taxes way easier for an indie film company.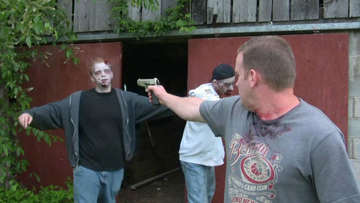 RavMon:  What was the result of your experience with Amazon?  Would you say it was a pretty major portal for getting the word out about your work or were there other, better avenues?
Jason:  Actually, A Chemical Skyline was on the best-seller list in Monster Horror for six consecutive weeks.  It rose and fell over that time but at one point, it was competing with such titles as Twilight and Let Me In.  It stayed on the hottest new release list for even longer.  It would actually be an understatement to say that Amazon.com was a major portal.  A lot of our international sales came from Amazon.  Between Amazon and Facebook, an indie film-maker needs nothing else to be successful.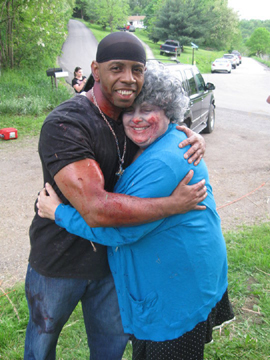 RavMon:  So what was your response to running up against such major titles?
Jason:  Holy shit!  That was my response.
RavMon:  What did you like the most about using Amazon services?
Jason:  Its absolute ease of use with setting up your project to reviewing your financial reports.  It was a nice little complete package; Easy, user-friendly and it takes all of your critical data and summarizes it for you.
RavMon:  What did you like the least about Amazon?
Jason:  Well at the time, I could not upload an HD copy of my film. The quality of my film – the way it looks on Amazon, is not very flattering in my opinion, considering I have blu-ray quality on the finished film. This may have changed, since I uploaded it in February.  Hopefully, if not now, maybe soon you will be able to upload HD quality films.
RavMon:  Do you have any recommendations for future filmmakers who may want to someday have produced something they can be proud of and showcase of their own?
Jason:  Yes… Stay out of our way. (laughs)  Just kidding.  Really, I'd say get out there and get those cameras running.  And, on a more serious note, I believe every filmmaker needs to educate themselves on the legal side of filming as well. It is alarming on how much copyright infringement I see and lack of knowledge about what you can film and what you can't film.  Do not get yourself in trouble with a piece of work on Amazon.com that you filmed guerilla-style and did not have all of your permissions in paper.
RavMon:  What kinds of works can we expect from E-Nertia Global in the future?
Jason:  We are currently working on a boxing-drama called One More Round.  Also, I will be filming a short horror film for another local Indie horror director by the name of Johnny Daggers for his upcoming anthology along with other local horror directors, aptly titled, Necrology.  And of course we still have the sequel for A Chemical Skyline, called Extinction Event, which will hopefully be coming soon as well.  We also have the possibility of some documentary work about some pretty serious subjects.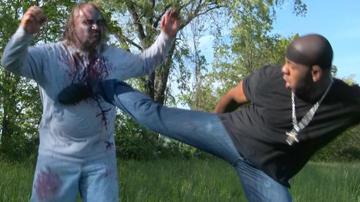 RavMon:  How can someone who is interested in learning more about you get in touch?
Jason:  Facebook.   Look me up, I add everyone!  It's spelled out as Jason T Swinchock (no period after the T).  Also, be sure to look up the fan pages for E-Nertia Global Productions.  From there, you will see our works and be able to stay up to date on movie news, current project news and casting calls.  And last but not least, our website is: www.enertiaglobal.com.  Or if you have any questions, drop me a line on Facebook.
RavMon:  And lastly, do you have anything you would like to add, any famous quotes or words of wisdom to those who are just starting out?
Jason:  Don't just talk about it, be about it.  You gotta get out there and do it.
In closing, it's obvious that Amazon is offering a chance to filmmakers across the world to take their quality works and put them up against the world.  Now that you've heard it, there's really no other option than to get out there and do it. 
Amazon; Think of it as a gateway, a growing portal into the world of horror.