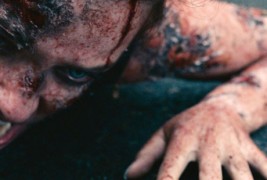 Writer/director Xan Cassavetes's film Kiss of the Damned is a beautifully intriguing film guaranteed to divide its audience.  The vampire tale is equal parts horror and romance, with a strong focus on internal conflict.  Each of the main characters is the greatest danger they face.
The simple plot follows three intersecting lives.  Djuna, an old (but never stated how old) vampire who has dedicated her life to resisting temptation and lives a lonely existence in a cavernous house.  She survives by drinking the blood of animals, avoiding people at all costs.  A chance encounter with Paulo delivers multiple temptations into her life again.  She fights to resist the urge to both feed and fuck Paulo who pursues her, fully understanding the danger it poses to his very existence.   Djuna and Paulo's lives are further complicated when Djuna's sister arrives to spend a week with them.  Where Djuna embraces control, Mimi allows her whims and impulses to guide her.  And in the center of this divide is Paulo trying to find balance.
With a reserved style Cassavetes' film evokes movies like Tony Scott's The Hunger and Harry Kumel's Daughters of Darkness.  While watching Kiss of the Damned you will find yourself occupying the same places as the cast.  The bulk of the film's events take place in a large sprawling mansion, which is the film's true essence.  A friend of Cassavetes asked her to shoot a film using the house.  Djuna and Mimi, two of the vampire characters had already been created prior to this request and Cassavetes merely added them to this setting.
The film direction and sound editing of Kiss of the Damned is amazingly effective, working to heighten the eerie dreamlike tone of the film.  In this dreamlike state that Cassavetes creates, you find yourself in a world where anything can happen.
The three lead characters and the actors that portray them, Djuna (Joséphine de La Baume), Paolo (Milo Ventimiglia), and Mimi (Roxane Mesquida) are nuanced and embody both primal desire and almost Zen-like control of their emotions.  This is where Cassavetes' screenplay spends most of its time.  How can we act on our desires if they lead to negatives, and how can we be fulfilled if we deny our desires?
The only poor performance comes from Michael Rappaport in a cameo that feels like it belongs in almost any other film but this one.
When all is said and done Xan Cassavetes' distinguished film is made for art houses and mature horror buffs.  This is a remarkable little movie that will almost surely develop a cult following as time moves on, as it divides its audiences between those who love and hate it.