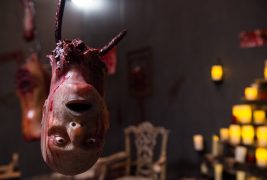 Alcohol, revelry, countdowns and kissing. That right there, folks, is your annual recipe for New Year's Eve. Usually, as goes the oldest cliché in Journalism 101, a good time is had by all.
But not in Minutes to Midnight, the new indie horror flick from Christopher Ray that adds a splash of slash to the recipe, sometimes — not always — to good effect.
Though typically low budget, Ray assembled a notable cast of B-listers for this project, including William Baldwin (Backdraft), Richard Grieco (TV's 21 Jump Street), Dominique Swain (Lolita) and ubiquitous horror fave Bill Moseley. Are they enough to carry this film across the finish line to thunderous applause?
Uh, not so fast. Details, details …
All begins peacefully, with a young man on bended knee in a serene, forested setting. He's just proposed to his willing girlfriend when a noise distracts him. He heads off to investigate when a shadowy figure with a hatchet literally cuts short the engagement. His fiancé of mere minutes is then trapped.
A scene-shift later and we're introduced to a group of office friends getting in the New Year's Eve mood early. Sophia (Sara Fletcher), Vanessa (Heather Paige Cohn) and Heather (Macey Cruthird) are planning a party that night. There will be boys, of course, including Sophia's ex, Michael (Bryce Draper). What's a party without drama, eh?
Their boss, Mr. Walters (Baldwin), pops out long enough to wish them well and to serve as a reminder that he owns a deserted ski lodge.
So, it's off to the mountains, by foot no less, accompanied by hot-head Kyle (Phillip Andre Botello), hot-girl Tiffani (Jena Sims) and hot-mess Richie, the funny drunk (Jared Cohn). Had it not been for an unfortunate encounter, they would have been joined by Gabe (Scott Thomas Reynolds) and Chloe (portrayed by the blink-and-you'll-miss-her Swain). Their failure to show alerts our party-goers to the trouble at hand, as does an appearance by Travis Crenner (John Hennigan), who's been out looking for his marriage-minded and now, unbeknownst to him, defunct brother.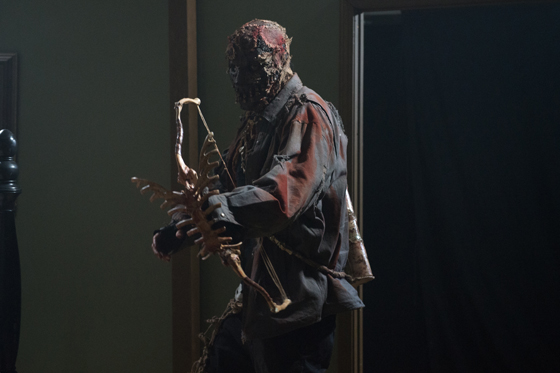 Travis brings us to Sheriff Wyatt (Grieco), who warns him to get out of the area because of its history of mysterious murders. Those killings, you see, are the work of the terrible trio of Gimple (Moseley), Angus (Aaron Aguilera) and Calypso (Mercy Malick). There is a reason for their mayhem, but spoilers are no fun. Suffice to say you'll see all the elements of slasher cinema play out:
— Misfit friends fighting and canoodling? Check.
— Gratuitous nudity? Check.
— Blood, bones and guts? Check.
— Plot twists and surprises? Check.
It's all there, framed in director Ray's Texas Chain Saw-esque vision. Only trouble is, this isn't a classic. It's the latest in a long line of films that, while good-intentioned, is a mirror of every other slasher film you've seen for decades.
To his credit, this film looks good. The cinematography is first-rate, and it has the appearance of a movie shot on a much bigger budget. The soundtrack is appropriately creepy, the dialogue is crisp and the lighting, while too dark at times, helps drive the tension.
The acting, for a film of this nature, is fine. But its top talent is mostly wasted.
Case in point is Grieco, wearing what appears to be a stringy black mop on his head. To say he doesn't look the part — no badge, no uniform, no squad car — is an understatement. I've seen better casting in infomercials. It's not as if he can't act; he still has a knack for playing moody, broody characters. But would a simple badge and a haircut have been too much for the budget?
Sometimes, the little things matter, particularly when it comes to looking for ways to stand out in a crowded field of indie horror flicks. Minutes to Midnight (available VOD now and next month on DVD, from Uncork'd Entertainment) is a decent enough way to spend 90 minutes, but it's mostly a lost opportunity.
Except. For. One. Thing.
Our bud Angus is attired in perhaps the coolest slasher duds since Leatherface, Michael Myers and Jason Vorhees donned their masks. That alone helps make Midnight the hour to cower.