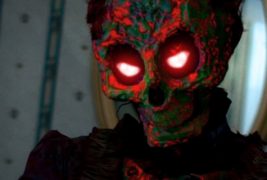 The Neon Dead is not your typical independent horror flick.  Sure, we've all seen horror movies where a smooth-talking, good looking young man takes it upon himself to save the world—and a pretty, young woman—from impending apocalyptic doom.  But Torey Haas has brought us something different here.
Haas wrote and directed this wonderful chunk of indie horror that tells the story of Allison (played by Marie Barker) and the sudden problem lurking in her bathroom.  A zombie problem is brewing and poor Allison is stuck in the middle with a job interview in less than two hours, no less!
SPOILER ALERT: Allison misses her interview at a local pizza joint and ends up recruiting two amateur monster junkies who claim to be professional busters of the paranormal.  Desmond (Greg Garrison, who also is a producer of the film) and Jake (Dylan Schettina) pay a visit to the curiously enormous home that Allison resides in, which just so happens to be three miles from her nearest neighbor.  When Desmond and Jake aren't fighting monsters, they're employees at a small town grocery store.  Desmond eats pancakes with a very important monster-fighting utensil while ignoring customers and Jake spends his time on the clock reading all about the history of the monsters that seem to be haunting the town in which they live.
Upon meeting with Allison, the two fellas quickly realize that these aren't your typical zombies—in fact, Jake makes it very clear throughout the film that these aren't zombies at all.  Zombies are humans controlled by voodoo to do the dirty deeds of a sinister overlord of sorts, as all of us horror fanatics know.  Jake's suspicions are confirmed when he is able to tie the ghouls bothering Allison to other cretins he's seen around town.  These are the sons of Z'athax!  Who is Z'athax?  Oh, just one of the most powerful monsters in all the land.  Does our trusty trio of goofballs have what it takes to save mankind or are we all doomed to serve The Neon Dead?
I haven't had this much fun with an indie flick in a while.  This eighty-minute romp of stop-motion animation and overacting is a loving tribute to Army of Darkness and would make Troma proud.   The film has one very important life lesson in it, as well: always answer the phone when your mom calls!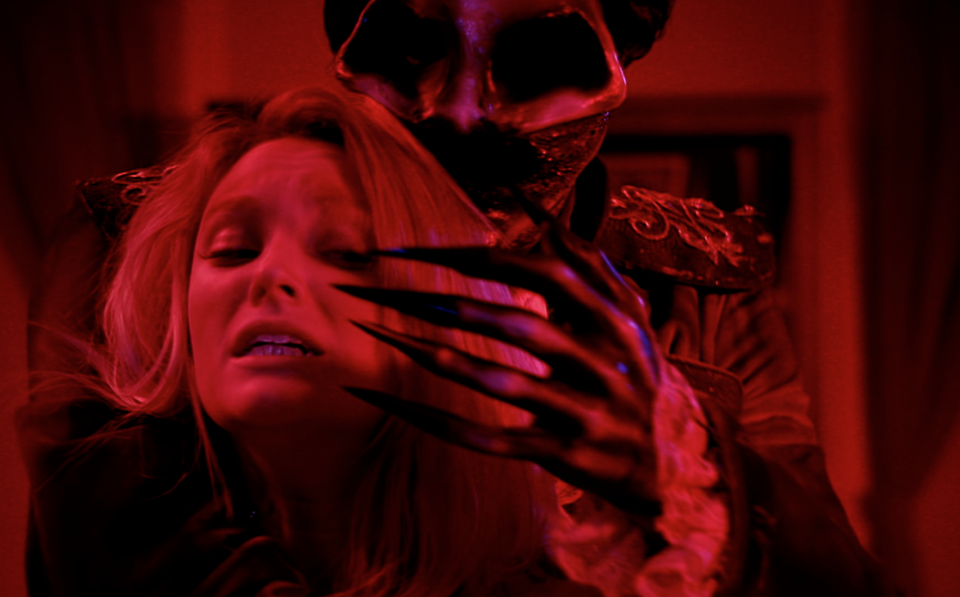 The Neon Dead utilizes very simple effects very well.  There is a lot of heart put into these monsters and many of the creeps in the film actually sport costumes that would make great Halloween outfits this year.  Even the simplest cheap scare works quite well here—a pair of glowing eyes in a dark bedroom always draw some goosebumps.
The acting is solid throughout the film, particularly Jake.  The character of Desmond could easily have been a clumsy mess had the wrong person been cast, but Garrison has just enough Han Solo and Cary Elwes circa Robin Hood: Men in Tights charisma to really make Desmond a likeable character.  Barker really nails the role of Allison and even throws in some singing for good measure.
The editing and the score deserve nods, as well.  A quartet of folks handled editing duties, including Haas and Katelyn Brammer (who also performed as a voodoo zombie in the film and served as assistant director behind the scenes).  Hsiang-Ming Wen worked the synthesizers and guitars, producing a solid soundtrack that definitely drives the film.
If I had to pick one thing I didn't like about the film, it would be the fact that only 138 folks contributed to this project's IndieGoGo page.  To be fair, I didn't even know about the campaign, or else I definitely would have contributed.  That being said, all 138 that did donate were recognized in the credits and can proudly say they helped bring a hell of a fun monster movie to life.
The Neon Dead is available September 13 from Wild Eye Releasing.