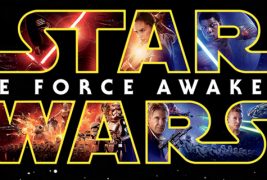 Alright, Horror Fans, we know, we know: Star Wars is NOT horror.
However…
…We here at Ravenous Monster are confident that there exists a huge overlap among those who love everything that goes bump in the night and those who are apt to try using the Force on a fairly regular basis, so tonight we bring you news fresh off the presses from STARZ.  At press time, we're a mere ten days away from cable premiere of Star Wars: The Force Awakens.  Not only that, but those of you with the STARZ app will get access to a variety of special content that you can read about below.
So, without further ado, please read the full press release Horror Fans and Star Wars Nerds….
Beverly Hills, Calif., September 1, 2016 – Star Wars Fandom will soon go into hyperdrive with the television premiere of Star Wars: The Force Awakens on Saturday, September 10 at 9 PM ET/PT exclusively on STARZ. STARZ subscribers won't need a Jedi mind trick to tune in to STARZ when the seventh installment in the Star Wars franchise makes its premium cable premiere on all six STARZ channels at 9 PM ET/PT and again at 11:25 PM ET/PT. Star Wars: The Force Awakens is also available for download via the STARZ app beginning September 10. Special features and extras including deleted scenes, "Secrets of The Force Awakens," "The Story Awakens: The Table Read" and how the creatures and BB-8 were crafted and built will also be available exclusively on the STARZ app on September 10.
Star Wars: The Force Awakens will also air across the STARZ channels numerous times throughout the day on Sunday, September 11, including replays on STARZ at 9 PM ET/PT and 11:25 PM ET/PT.
For $8.99 per month with a 7-day free trial for new subscribers, fans will have the opportunity to return to Jakku, Maz's castle and D'Qar anytime they'd like with instant access to Star Wars: The Force Awakens on the STARZ app. In addition, they'll also receive instant access to more than 2,900 selections available via the app each month, including STARZ hit series ranging from "Power," "Outlander" and the upcoming "American Gods," when it premieres in 2017; to Hollywood hits and popular movies. STARZ subscribers from participating cable, satellite and telco partners can also authenticate and view STARZ content in the app including every episode of every season of the best of STARZ's original programming, as well as the biggest, most extensive movie library of all the premium subscription networks in the U.S.*

Star Wars: The Force Awakens saw the eagerly anticipated reteaming of original Star Wars stars Harrison Ford, Carrie Fisher, and Mark Hamill, along with Anthony Daniels, the only actor to have been in all seven Star Wars films, and Peter Mayhew. The returning cast was joined by newcomer Daisy Ridley, who beat out fierce competition to take the principal role of Rey; BAFTA Rising Star Award winner John Boyega (Attack the Block, Imperial Dreams) as reluctant stormtrooper Finn; Emmy® nominee Adam Driver (Lincoln, "Girls") as the villainous Kylo Ren, and Golden Globe® winner Oscar Isaac (Inside Llewyn Davis, The Bourne Legacy) as Resistance pilot Poe Dameron.
Star Wars: The Force Awakens was directed by J.J. Abrams and written by Lawrence Kasdan, J.J. Abrams, and Michael Arndt. Lucasfilm President and eight-time Academy Award® nominee Kathleen Kennedy and J.J. Abrams, along with his longtime producing partner Bryan Burk, are the film's producers. Having established a musical legacy with his iconic scores for the previous six films in the Star Wars saga, acclaimed composer John Williams returned to score Star Wars: The Force Awakens, ultimately garnering his 50th Oscar® nomination for his work.
Star Wars: The Force Awakens brought an estimated $2.06 billion worldwide, and two sequels, Episode VIII and Episode IX, are scheduled for release in 2017 and 2019.