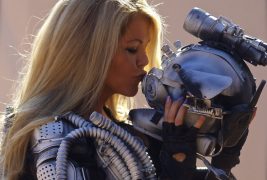 Tonight, Horror Fans, we bring you a special behind-the-scenes video documenting the making of Rogue Warrior: Robot Fighter.
Described as "Mad Max meets Star Wars," director Neil Johnson's buzz-worthy sci-fi action flick has been named as the Opening Night Film at this year's Action On Film Festival, which is one of the more unique festivals to play and one that features nonstop white-knuckle cinema.   The screening this Friday, September 2 will be Rogue Warrior: Robot Fighter's world premiere.  Johnson's movie has been nominated for eight major awards at the festival including Female Action Performer of the Year (star Tracey Birdsall) and Best Science Fiction Film.
Watch the video below to see some of the movie magic employed by this cast and crew, Horror Fans….