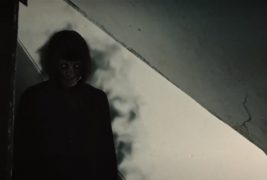 There's an antiquated saying that a man's home is his castle. Jack Travis took it literally.
A playwright who specializes in macabre tales, Jack bought a somewhat remote Scottish castle with the idea of making it not just a home, but a setting for his next work, exploring the malevolent deeds of its former owner, a nobleman who impregnated his maid servant. She fell to her death down a spiral staircase after bearing him a son.
When the child was old enough to know his heritage, he ridiculed his father, who in a fit of rage imprisoned his son behind a stone wall. Left alone to die, without water or food, the son allegedly made a deal with the devil to exact revenge.
Jack (William Holstead) has a master plan, affirmed when he discovers a painting of the nobleman, maid and their son, now proudly displayed in his office for inspiration. He'll complete his play and then have performances inside the castle. There are obstacles to overcome, not the least of which is a bitchy teenage daughter, Bee (Grace Courtney), who resents her new home, her new school, and her father for the upheaval in her life.
That's the setup for Playhouse, the directing debut of brothers Fionn and Toby Watts, who also wrote the screenplay. The Far North Film production just became available on VOD.
The creepy atmospherics begin to take hold when Bee gets the bejesus scared out of her, thanks to a couple of school chums, ably portrayed by Mathilde Darmady and Julie Higginson. In a game of truth or dare, they talk Bee into touching the wall where the nobleman's son was ensconced. Bee's reaction suggests an ethereal connection to the dearly departed.
Enter Jenny (Helen Mackay) and her husband Callum (James Rottger), who live not far from the castle, which by the way is more tall stone home than medieval edifice, one of the film's few cheats. Jenny, we learn, has a kinship connection to the castle, and Callum aspires to be a writer not unlike Jack. Where Jenny sees trouble, Callum sees opportunity. The two are invited to dinner with Jack and Bee, but the father-daughter histrionics explode, ruining the dinner and mysteriously sending Bee into hiding, the nature of which we won't learn until near the end of this tale.
Through all of this, Jack's work slowly gets the better of him (think Jack Torrence in The Shining), with episodes of mania and, perhaps hallucinations, as when Bee's mother Kathryn (Rebecca Calienda) makes an ill-fated appearance.
So as not to give away too much, let's just say things go from bad to worse thereafter, with a dollop of heroics arriving just in the nick of time.
Playhouse is an ambitious film, most notably for its gorgeous cinematography. There is nothing chintzy about the look of this film. The interior and exterior shots make you want to visit Scotland with the next post-Covid flight out. The lighting is eerie, enhanced by the castle occupants' preference for candles over electricity. A big congrats to cinematographer Andy Toovey.
It does falter a bit in pacing. This film requires patience, given its slow, suspenseful build. And frankly, the payoff isn't as dramatic — or spooky — as the motif would suggest. Still, the Watts brothers deserve credit for coaxing the most out of their talented cast. Halstead is a bit over the top as Jack, but not annoyingly so. Mackay, in particular, is a standout.
The plot, while derivative, has enough novelty and nuance to sustain interest, and that's ultimately the point, eh? So stick with Playhouse from start to finish. You may not give it a standing ovation, but I suspect you'll demand a Watts brothers encore.