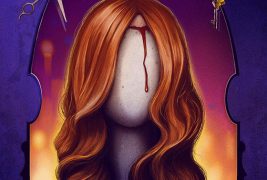 Sometimes it's easier to share your secrets with a stranger. You'll never see them again, so you don't care about their opinions. They're barely even a real person in your mind. But what does it feel like to always be the stranger on the receiving end of that kind of one-sided intimacy? That's the question at the heart of the 2020 film The Stylist, written and directed by Jill Gevargizian and starring Najarra Townsend and Brea Grant.
Townsend plays Claire, a beautiful but insecure and socially awkward hairdresser with a dark secret of her own: she's a serial killer. She has her killing technique down to a science and maintains a basement full of trophies taken from her victims, real human-scalp wigs that she can wear to assume a variety of different personas. Don't worry – that wasn't really a spoiler; all of this gets established in the first couple scenes of the film. The story itself isn't especially concerned with Claire's murderous hobby but rather the strain it puts on her as she tries to broker a genuine friendship with a client, Olivia (Brea Grant).
Olivia is getting married and calls on Claire for a hair emergency. Being on-call to help with styling and exposed to the details of Olivia's upcoming nuptials gives Claire a feeling of friendship and closeness (even if Olivia doesn't see their relationship in quite the same way). In fact, being friends with Olivia shows Claire a potential path towards a new type of life, one with everything she's ever wanted. But giving up murder is hard. And what happens when your new best friend doesn't feel the same way about you?
The Stylist is an expansion of a 2016 short film of the same name, a 15-minute vignette that basically acts as the feature's opening scene. In such a short film, there was understandably no room for backstory or unnecessary exposition, and the shock of a hair appointment culminating in murder works well enough to cap off the tale. The feature version, while greatly expanded to a 105-minute runtime, still does not dig too deeply into Claire's history or motivations. We catch glimpses of her story, hints of a broken home life and tragic history mingled with obvious self-loathing and mental anguish, but we don't get answers to any of our questions about what makes her tick. Claire remains a cipher, which is an odd choice for what feels like a character study; the film's quiet pace and slow, lingering style would make it a perfect vehicle for deep characterization.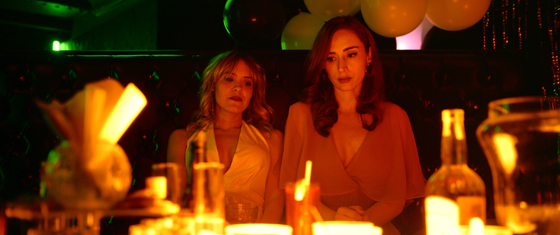 But what we lack in backstory, we make up for in development. Claire's struggle toward normalcy and her ache for Olivia's seemingly perfect life are heartbreakingly perfect. Even as we see her brutalize someone with scissors or pull on a victim's scalp, we're kind of rooting for her. Townsend does a spectacular job with delivering range, pivoting seamlessly from quiet and awkward to outright feral in the blink of an eye.
Brea Grant does a great job with her character as well. Olivia is the everyman character, the person too nice to maintain her own boundaries, unthinkingly selfish at times and unwisely generous at others. Her performance is a solid rock to anchor the rest of the film.
That said, the runtime does feel excessive for the simple plot. It could easily have been pruned down into something tighter, and its finale would have had more punch if the tension could have stayed high throughout.
Like many women-oriented horror movies, The Stylist delves deeply into the nature of female friendship and the tense line between admiration and jealousy. If those themes resonated with you in Jennifer's Body, or if you're a fan of the indie flick Always Shine, you'll enjoy this one. And when you're done, do yourself a favor and watch Brea Grant's film 12 Hour Shift. I watched the two as a double feature, and though they're tonally quite different, it's a lot of fun seeing Grant move behind the camera to take the reins. I look forward to more from everyone in The Stylist's cast and crew, and I hope they continue collaborating on more twisted little tales.
You can currently watch The Stylist on Arrow's recently launched streaming service.