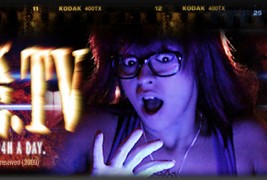 Many filmmakers only dream of becoming as multi-talented as Sv Bell of Black Flag Pictures and Black Flag TV. A Canadian comic book artist who took a turn into film, not only is Sv able to produce films on a shoestring budget, but he also runs a unique television network that broadcasts indie horror 24/7.
INDIE HORROR 24/7!?
Now that your curiosity is piqued, read on to find out firsthand how Sv Bell enjoys expressing his creative freedom within the horror and sci-fi genres.
RavMon: As is custom with many of my articles, let's start out with a mini-bio of some of the things you do. With a record of being a painter for heavy metal albums, a director and an all-around man of many talents, please sum up where you are from and just what it is that you do.
SB: That's a large question… I wear so many hats, it's crazy. So my life is anything but redundant. As an artist, I'm extremely curious about everything. So this brought me from drawing comics at a young age, to commercial graphic design, computer animation, filmmaking, web design, mobile app development.  I always try to do everything myself, not because I want to cut the budget, but simply because I love to learn new stuff on the way. One thing leads to another, and I let it flow naturally.
RavMon: Let's talk about Black Flag Pictures for a moment. Your website says that you are able to create quality films at a lower budget. This is certain to pique the interest of filmmakers everywhere. Tell us a little bit about these works.
SB: I pointed out on my site that Black Flag Pictures can create movies on a shoestring precisely because I can work with very little resources. Since I can do most positions, from casting to filming, camera operating, sound recording, and all aspects of post-production – video editing, sound editing, mixing, Foley, 3D animation, compositing, and music score. Of course, the more work I do myself, the more time it takes. But on the other hand, it does dramatically cut the budget because I have lesser people to hire. That's how Black Flag Pictures manages to make films that look like million-dollar productions, yet it costs a fraction of that amount.
RavMon: Do you have a personal favorite film created by Black Flag Pictures?
SB: It's hard to point to one in particular, since each film I made has a life of its own. The more recent films have better production value than the older ones, but each film has a behind-the-scene story of its own, a life experience I lived with each of them, and it has nothing to do with the final result on screen. Esthetically speaking, I would say that Crawler is the best though.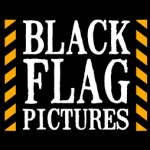 RavMon: In addition to Black Flag Pictures, there is also Black Flag TV, which broadcasts indie horror flicks 24/7. Tell us a little more about the TV side of your business.
SB: Black Flag TV appeared a couple of years after I launched the distribution branch of Black Flag Pictures and established my own network of retailers and vendors. But the DVD market is pretty dead, and sales just aren't there. Black Flag TV is basically the sister site to the distribution branch. In the very beginning in 2009, when drafting the rough lines of an internet-based film distribution pattern, I considered a video-on-demand platform. That was initially a typical pay-per-view system, and the more I was considering it, the more I was unsure about it being a good move. There were already plenty of VoD sites on the web, they're all over the place. I didn't feel like what movie lovers wanted was just another video-on-demand web site. I wanted something that goes beyond this.
The TV station pattern naturally came to mind, there was nothing like that on the web, and even today, I still have to find another independent live TV. There are streaming services where people can build a playlist, and invite visitors to the company's website and watch movies. Much like a Youtube channel. But Black Flag TV works just like a real TV broadcaster, not like a website with Youtube videos. Black Flag TV's content is broadcast live from my own studio, run thru a distribution server, and webmasters can take that video stream, and post it on their own web page, for the benefit of their own visitors. It's a viral TV broadcast. Most viewers never come to my website, and watch the station remotely from other web pages, from Facebook or a blog, and so on.
And since it's viral, I have no control on where the station is shown. There are many viewers in USA and Canada, but an increasing amount of viewers come from Japan, Indonesia, UK, Portugal and so on. Viral television is pretty unique, and other than Black Flag TV, I haven't seen much like this out there.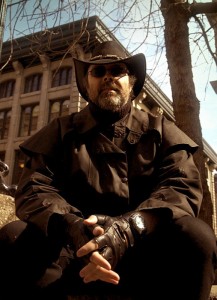 RavMon: I am curious to know just what inspired your great love for indie horror. Was there a moment in your life?  Perhaps you can share with us a vivid recollection of when you first thought to dive into a life of horror?
SB: It's hard to say where it comes from.  I've always been a creator, drawing, painting, designing, from as far as I can remember. I've always loved the creative freedom horror and sci-fi brings, and I always tend to move forward without waiting after money, or opportunity. I just do it. So, making indie films was not a decision I made. I just…did it, and never really questioned myself about why or how to do it. I look around me, what's available, what inspires me, and create something out of it.
RavMon: Who are your greatest horror influences and inspirations, past and present?
SB: I really like Paul W.S. Anderson's films, as well as Steve Beck, and the classics like Roman Polanski, Terence Fisher. Other inspiration for me comes from Ed Wood, Al Adamson, John Waters.  They are passionate artists, and made films regardless of what people think, regardless of everything. They just wanted to tell a story in any way they can. They did what they wanted most, and I find it truly inspiring.
RavMon: Among your innumerable talents, you also have a comic book that has been released. Tell us about that and where readers can order a copy within Canada, America and beyond.
SB:  Interestingly, I'm a comic artist and illustrator first hand, who turned filmmaker over the years. I'm simply coming back to my roots I guess. I've been drawing comics since the early '80s, in the '90s, painting and book/CD cover illustration took the entire floor, and CD covers eventually brought me to music video, and subsequent filmmaking. I haven't done comic art for 20 years, so it was kind of a weird feeling when I sketched the first page for Silverblood, my comic book. Feels like coming back home after being away for decades!
So, Silverblood tells a series of short stories around a sexy goth girl who has the strange ability to create reality out of her own dreams, nightmares and fantasies. Silverblood – the character – does not really control these fantasies; they come from her and gradually invade her universe, her privacy. So she's constantly struggling against the pleasure of having her fantasies come true, but also her worst nightmares taking life before her eyes. The frontier between reality and fantasy is blurred, and it will get more and more difficult for her to sort what's real and what's not. Because, in the end, everything gets real to her.
Silverblood's first issue has just been released, and I'm at work on the second issue as we speak. The comic can be ordered from www.silverblood.ca.  A few retail stores carry them already, and I hope more retailers will order it too soon.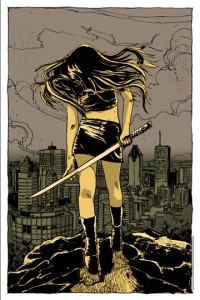 RavMon: In closing, please tell the readers just how they can pick up a movie from Black Flag Pictures and where to watch Black Flag TV.
SB: Easy enough: everything is on www.blackflag.tv.
My films, books, comics and merch' are in the store section, all information on what I do in the blog section, and TV plays 24/7 on the front page. Note that due to the viral nature of Black Flag TV, there are quite a number of places on the web where viewers can watch the station. But there's only one headquarter: www.blackflag.tv.
Thank you, Sv Bell for the innovative and inspirational interview.   RavMon readers, what are you waiting for? Watch indie horror 24/7. Go. Now!