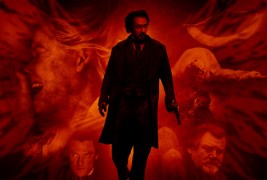 Director James McTeigue has built up quite a résumé over the last two decades in cinema, including his directorial debut V for Vendetta and work on all three Matrix films.  The film I enjoyed most of his is one that others may not hold in as high regard, but I thought The Invasion was fantastic — a film wrought with tension and vivid imagery that kept my wheels spinning from start to finish.  However, his latest venture just surpassed The Invasion for the number one spot on my list of his films.
In The Raven, McTeigue tackles alternative history by way of one of the most famous macabre writers of all time.  Starring John Cusack as the literary genius Edgar Allan Poe, The Raven opened this weekend to great anticipation and the film did not disappoint in this fan's mind.
At a time when alternative history storytelling may just start becoming a fad in Hollywood (the audience erupted in chuckles when the title Abraham Lincoln: Vampire Hunter splashed across the screen during previews last night), McTeigue takes a polarizing character like Poe and runs with the long-standing speculation that Poe did more than just write about murder.  Rumors have swirled since Poe's life ended in 1849 that he was writing from firsthand experience of killing.  Only in this film, Poe is not the blood-thirsty deviant that some considered him to be.  He's a uniquely qualified aide to the police to help capture a serial killer on the loose.
In The Raven, Cusack plays a likeable, even comedic at times, Poe — a man slowly drowning himself in an alcohol addiction and struggling with the fact that he is a starving artist in every sense of the word.  Cusack looks the part to a T, and does a fantastic job of infusing the unpolished charisma Poe was known for into his portrayal.  I read a review of Cusack's prior work recently and someone referred to him as a feminine, soft-featured actor — whether that was meant as a crack or not, I'm sure Cusack just checks his bank account every now and then and shrugs off those comments, but those very traits — the soft eyes, the slim frame and never-aging voice play into his role as Poe perfectly. Cusack is forty-five years old right now, while Poe was forty when he passed away.
We meet Poe in a tavern as he returns to Baltimore, proclaiming his genius as a writer and giving up his last few earnings in hopes of getting a drink.  On that same night, a horrific murder is committed in town and upon further inspection of the crime scene, it becomes clear the murderer didn't come up with this idea on his own.  While Poe struggles with his own writing career, desperately trying to find his next The Tell-Tale Heart and scribbling reviews for The Baltimore Patriot, he is brought in for questioning regarding the circumstances of the murder.  It quickly becomes apparent that someone is using Poe's fictional works to dole out punishment on unsuspecting victims.  Amidst all this, Poe is also fighting for the love of his life's hand in marriage with her overbearing father; Poe now has to help solve a mystery that is tearing the town apart.  He is, after all, the only other man who knows the killer's next move.
The film does a great job of keeping the dignity of Poe's life and works intact, tossing in quick nods to his personal life such as the fact that he was a United States Army private and acknowledging the fact that this was a man who had lived through losing literally every woman he had ever loved to horrible, gut-wrenching deaths.  What seems to get lost in a lot of Poe discussion is just how deep a story there is within his personal life — a simple quest for love and belonging, doing what he loves to do, juxtaposed with poverty and star-crossed emotional battles. 
Again, as a fan of the man's work, I admire McTeigue and this film for giving people more to chew on than just the fact that Poe wrote horror tales. Wait until you hear how the film disposes of Rufus Wilmot Griswold, the fellow writer and critic who exchanged barbs with Poe while he was still alive and proceeded to desecrate Poe's name the day he was buried. You don't have to be an E.A.P expert to enjoy this film — every murder that is committed is tied to a specific tale Poe has written, but writers Ben Livingston and Hannah Shakespeare don't leave the audience in the dark.  There are plenty of mentions of the stories being used as motivation for each killing and I found it particularly heart-warming to hear a young girl, maybe fourteen years old, tell her father as we were walking out of the theatre, "oh man, I want to find a book with those stories!"
The supporting cast around Cusack not only provides a few familiar faces, but also fleshes out the story quite nicely. Alice Eve (She's Out Of My League, Men in Black III) plays the love of Poe's life, Emily Hamilton, a young woman whose father would rather be six feet under than see his daughter take Poe's hand in marriage.  Eve is a gorgeous young woman who finds herself suddenly the pawn in a game of wits between Poe and the unknown killer, and there is a moment of triumph that, as a women-in-horror fan, had me do a small fist pump in my seat last night.  There is genuine chemistry between she and Cusack in the film, and the emotional investment plays as a strong point in the film.  Luke Evans (Immortals, Clash of the Titans) is fantastic as Detective Fields, the man in charge of putting an end to the rash of heinous murders.  Evans takes command of the screen whenever he is present without giving in to any cheesy machismo that we see far too often in roles like his.  Brendan Gleeson (In Bruges), Kevin McNally (Pirates of the Caribbean) and Sam Hazeldine (Don't Let Him In) round out the major pieces of this film's tale, a gripping mystery spun nicely by film writers Ben Livingston and Hannah Shakespeare.
Overall, The Raven is an excellent film, paced quite nicely.  Dialogue was witty and intriguing, keeping the film's one hour and fifty-one minute running time moving along fluidly. Intermingled with the mysterious plot were a sufficient number of light hearted one-liners and quips. The film was broken up by flashes of grue at just the right times. We see a man tethered to a table as a sharp blade pendulum begins its descent into his belly and later we get to see a human tongue where it doesn't belong.  The look of the film was aesthetically pleasing, from the contrast between night and day to the color palette used throughout the costume designs.  The use of imagery was well done, including of course, the raven being a prominent bird fluttering across many shots. We even get an answer to how exactly Poe came to that Baltimore park bench that fateful day before passing away.
I've heard some bemoan the film already, which doesn't really surprise me.  From those who aren't Cusack fans (I don't even know how that's possible) to people who will claim Poe must be rolling in his grave for the way this film was done (cough cough, Boston Herald reviewer), you can't please everyone. To these people I say — much like Poe's works, this film is fiction. It's meant for enjoyment and like Patriot editor Maddux says in the film time and time again, "People love the gore". So shut up and enjoy your popcorn, and a very entertaining film.