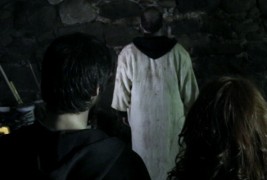 In the near-future (2016), roommates Margot (Jessi Gotta) and Daniel (Nat Cassidy) hole-up inside their Brooklyn apartment, awaiting the next big hurricane to bear down on the Big Apple—the new normal following Hurricane Sandy.  As they briefly leave their sanctuary to navigate the perils of apartment living, namely avoiding their weird neighbors while trying to time their showers to when hot water is available, Margot discovers that something is bugging their building superintendent…literally, while Daniel observes problems with the water that are far more alarming than its temperature.
After they reconvene behind the deadbolt-locked safety of their apartment door and consider the three recent mysterious deaths in their building, Margot and Daniel decide to ride out the storm in a miasma of weed, liquor, horror flicks, panic, and paranoia.  Isolating themselves from the storm, the catatonic strangers gathering in the streets below and the mysteriously afflicted co-inhabitants of their building, Margot and Daniel still cannot avoid the mounting forces of malevolence, some of which are intimately among them…and have pincers!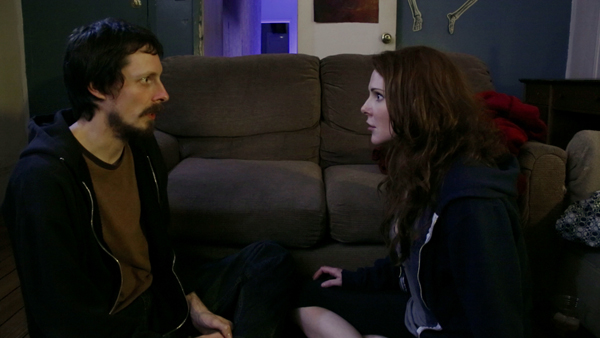 Directed by Patrick Shearer (The Big Bad [actor], Evermore) and written by Jessi Gotta (The Big Bad, Anniversary Dinner), They Will Outlive Us All is typical of indie movies that are products of extremely limited resources in that the components that comprise this story are few.  There are essentially two characters operating in one location.  As there are fewer variables, each one bears a greater share of responsibility for whether or not this movie works.  And where many indie projects crash and burn, They Will Outlive Us All flies true.  The lion's share of responsibility for the success of this particular film falls on the performances of Gotta and Cassidy and to put it simply, they are fantastic.
They Will Outlive Us All is intended as a horror-comedy and fortunately it's funny.  And on purpose!  Again, Gotta's smart script along with Shearer's understated direction of his cast's chemistry and top-notch comedic timing results in a movie that's funny, creepy, gross, and most impressively infused with some heart in its final act.  It recalls some of our favorite elements from films including Evil Dead 2, [REC], and Slither.  And while this is clearly a small-scale production, the scope of this movie plays much larger than its production would entail—another byproduct of a smart script and a resourceful director.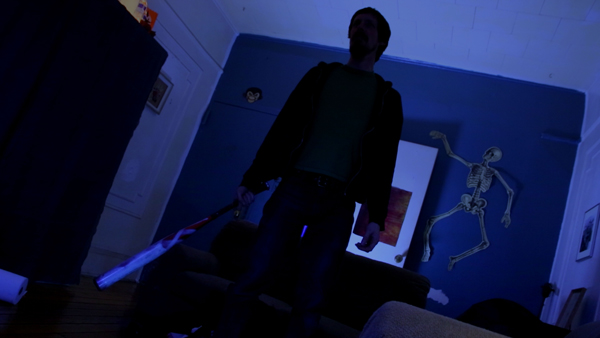 The film's only weakness is a relatively minor one—a stretch in the middle during which Margot and Daniel are passive and the antagonistic forces are just sort of happening to them rather than resulting from their trying and failing to reach an objective.  It's really just an over-long sag point that does yield some entertaining characterization but it does so at the expense of the movie's forward momentum.  However, this is more a result inherent to the plot's set up and by the film's final act our protagonists are once again proactively trying to survive their situation in ways that are equal parts over-the-top and entertaining.
They Will Outlive Us All is 'Exhibit A' for the potential of incredible movies to exist completely independently from large sums of money and other capital.  Its budget is obviously tiny yet the movie delivers an enormous and emphatic bang for the buck.  A gooey, bloody, gross bang at that.  To put it simply: Good filmmaking results from quality, not quantity and good movies will always rest upon a foundation of those aforementioned essential fundamentals—a good script, a good director, and a good cast.  These are elements that Shearer's movie has in abundance.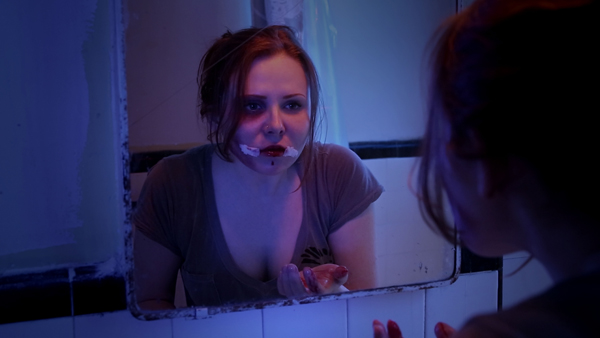 They Will Outlive Us All is weird and endearing, funny and scary.  So, yes, give me a semi-post-apocalyptic New York City, two irreverent and eccentric malcontents, some nature run amok, a few pseudo-zombies, a handful of incredibly large and malicious insects and throw it all into a clever cinematic blender, 'cause I'll happily drink it down again and again.  This is true independent filmmaking at its finest, sure to please fans of bizarre and challenging indie fare as well as fans of schlock and exploitation and most of those who reside somewhere in between these camps.