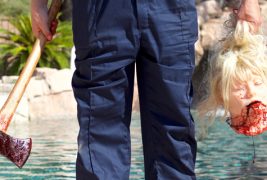 The trailer for Drew Marvick's feature debut Pool Party Massacre takes me back to the early to mid- '80s when I'd spend several nights per week perusing the empty VHS boxes sporting the fantastically tasteless artwork in my local video store, trying to settle on which exploit-o-gore bloodbath I'd be bringing home to watch each night.  Most of those movies were extraordinarily entertaining by virtue of their hysterical badness, and if I were a betting man, I'd wager that Pool Party Massacre is intentionally so bad that it's good.
Either way, this trailer wins the day.  Read the details and watch the trailer below, Horror Fans….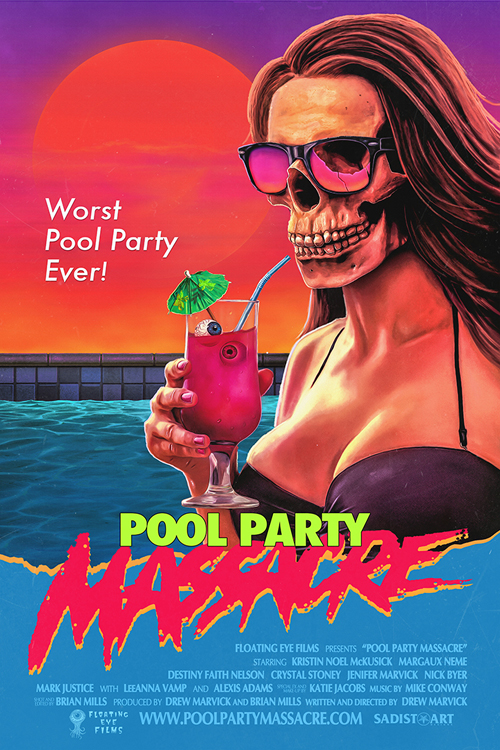 Los Angeles, CA – Floating Eye Films has released the first trailer and stills for the old school splatterfest Pool Party Massacre.  The debut feature from horror fanatic Drew Marvick, Pool Party Massacre is an ultra low-budget '80s-inspired slasher that cuts to the flesh and bone of a group of young friends.  With a pounding synth score and a heavy metal soundtrack, Marvick has crafted a loving homage to the body count of 80s B-movies.
Blair Winthorpe, a high-maintenance young socialite, is having a pool party while her parents are out of town. What should have been a relaxing summer day spent tanning for the girls quickly becomes a blood-soaked nightmare when an unknown guest crashes the party.  He finds a garage full of dangerous toys and gets to work stalking and dismembering them one by one.