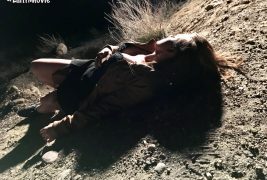 Our friend and prolific horror provocateur Jessica Cameron is back with Lilith a white-knuckler shot along with Mania and likewise documented in Kill the PA.  Ms. Cameron stars in this one and produces via her Small Town Girl Productions company. 
For those of you who don't know, Cameron's work is over-the-top and will surely please fans of grimy exploitation and violent horror.  Lucky for her, there are lots of us out there.  And lucky for us, we have the trailer for Lilith as well as the Small Town Girl Productions press release in full.  Read on, Horror Fans….
From Producer Mem Ferda and Small Town Girl Productions comes the new teaser trailer for the indie feature film Lilith.
Lilith is a Mesopotamian storm demon associated with wind and was thought to be a bearer of disease, illness, and death…
Heidi and Steve Richmond are traveling across country in an RV, the workaholic married couple are taking a break from the hustle and bustle of every day life to rekindle their romance. But when their path crosses with a beautiful young woman named Lily, their idyllic road trip becomes a hellish nightmare.
The film stars some talented actors, including: Jessica Cameron (Truth or Dare, American Guinea Pig: Song of Solomon), Carlo Mendez (Parks and Recreation, The Bay), Ryan Kiser (Truth or Dare, In Harms Way) and Ali Ferda (An Ending, The Sleeper).
Award winning composer Eric Elick has signed on to do the music for the feature film. Recently Eric scored the music for Kate Shenton's Egomaniac, Jitterman and Visitation.
Producer Mem Ferda had this to say about his release:
"Hard core horror fans who loved our award-winning feature 'Truth or Dare' will love 'Lilith' which is quite different and unique, featuring some of the best in indie horror talent."
For more information about Lilith please visit:
FACEBOOK: https://www.facebook.com/Lilithmov/
TWITTER: https://twitter.com/lilith_movie
IMDB: http://www.imdb.com/title/tt4018794/?ref_=fn_tt_tt_8