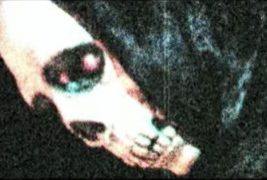 Brand new indie production company Cryptic Pictures comes out swinging with their debut movie Mortal Remains – a critically acclaimed, absolutely bizarre documentary on notorious splatter filmmaker Karl Atticus. 
Is it real?  Does it matter.  Read the press release and watch the trailer below and see if you can resist the allure of this exploration into truly sinful cinema….
Mortal Remains is a "shockumentary" which examines the life of Karl Atticus, a notorious filmmaker from the Vietnam era whose works have been mysteriously purged from cinematic history…with good reason, according to some.
Interviews with historians and horror aficionados – including Eduardo Sanchez, co-director of The Blair Witch Project – suggest that Atticus's legacy may have been far more sinister than even his detractors suspect.
Shot under-the-radar over a three-year period, Mortal Remains is the debut feature of Cryptic Pictures, an independent production and distribution company. Now available on Amazon, GooglePlay, YouTube and on iTunes in 62 territories worldwide!  Also coming soon to Vudu (11/10), and Netflix (in 2018)!