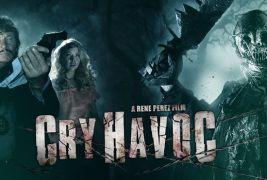 What can I say, Horror Fans? I'd be a liar if I didn't admit that the notion of pitting a dead ringer for Charles Bronson (Robert Bronzi) against a slasher killer kept inside a compound and used as a security force by an infamous criminal is an idea I'm entirely susceptible to, quality or execution be damned.
It just so happens that filmmaker Rene Perez has made such a movie—Cry Havoc—and it will be available On-Demand this May by way of Midnight Releasing. Read the full press release and watch the trailer below, Horror Fans….
Robert Bronzi, the star of Death Kiss and Once Upon a Time in Deadwood, faces his deadliest opponent yet in Cry Havoc – available this May On-Demand.
An ambitious young reporter is granted an interview with one of the FBI's most wanted. While entering his compound she finds one of his prized possessions, a serial killer who murders at call, called HAVOC. Her only hope is a rogue policeman searching for his daughter.
Co-starring Richard Tyson (Kindergarten Cop) Emily Sweet, and JD Angstadt, writer-director Rene Perez's Cry Havoc premieres on demand May 5 from Midnight Releasing.