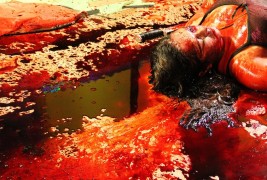 Truth or Dare, the directorial debut from ascending scream queen Jessica Cameron, is one of those rare movies that inspires an irrational compulsion to bathe.  In fact, this reviewer's thoughts became sanitarily grandiose after watching this exercise in sadistic cinema.  A hot shower?  A man-sized vat of hand sanitizer? A ditch filled with lye?  All of these seemed progressively attractive.  But the insatiable need to come clean—depicted in the movie both literally and figuratively—is undeniable.
The setup of Truth or Dare is remarkably simple.  A group of six friends becomes internet-famous by filming games of Truth or Dare that end violently and posting the footage online.  The viral videos are passed off as real, but as is the case with most reality TV—they are everything but.  Dubbed the Truth or Dare Devils, the group reveals the inner-workings of its hit videos to the media and vows to ratchet up the spectacle.
When they embark on shooting another video inside a garage-turned-set they're interrupted by a self-proclaimed number-one fan, Derik B. Smith (the outstanding Ryan Kiser).  Smith is disgruntled—and that's putting it mildly—at the group's lack of realism and he violently coerces everyone into playing his version of the game with the help of a loaded gun and an assortment of other, pointier items.
The terrified group sheepishly plays along, trying to placate this madman, but it soon becomes clear that his game is a losing one.  Smith somehow knows in great detail each of their most intimate secrets—shockingly disgusting biographical details no one would want revealed.  Choosing the "truth" option and then answering Smith's personally pointed questions with a lie results in horrific, painful punishment.  However, choosing the "dare" option in an attempt to avoid the embarrassment and anguish of divulging out loud their dirtiest, darkest failings is even worse.  Smith's "dares" amount to deadly torture as they torment, mutilate, and brutalize our protagonists in a succession of escalating sadism and, finally, murder.
These are the stomach-turning stakes of Truth or Dare, Horror Fans.
What's even more remarkable than the simplicity of the movie's premise is Cameron's ability not only to sustain, but to build tension within the context of such a static framework.  Truth or Dare's running time is nearly an hour-and-a-half, the vast majority of which depicts one (diminishing) group of characters interacting within one confined location.  Yet, not one minute of the movie feels like filler, but rather it plays at a manic pace.  According to Cameron, this success is the result of a concerted effort during preproduction of pruning the script and, later, cutting scenes during postproduction that were deemed unnecessary.  We're left with a high-concept, lo-tech story that's as nerve-rending and brutal as it is fast-paced and concise.
The principal cast includes the aforementioned Kiser as Truth or Dare's Baddie and director Cameron as group member Jennifer as well as Heather Dorff, Devanny Pinn, Shelby Stehlin, Brandon Van Vliet, and Jesse Wilson.  This ensemble's performances are consistently good which is no small feat for a production as independent as this one is.  Though, it must be stated that Pinn's turn as promiscuous Courtney Austin steals the show.  Her portrayal of escalating and dynamic pain—from embarrassment to grief to horror to physical disfigurement—is intensely disturbing and believable.
What viewers will get from Truth or Dare is determined more by the viewer than it is the movie.  It's every bit the modern day exploitation flick, one that has implemented promotional ploys ripped from the pages of exploitation cinema's golden era—like the handing out of free vomit bags at its L.A. premiere, for example.  But it's also an interesting satire on today's media culture as people all around the world interact with each other digitally more than they do personally.  Right now, fame can manifest overnight from 2-million YouTube views of someone's irrevocable caught-on-camera mistake, the line between fact and fiction is as flimsy as it's ever been, and the word "reality" is meaningless.
Truth or Dare is not without its faults.  But most of those—minor audio issues early on and seemingly having to edit around several practical gags to make them work—can be attributed to the movie's relatively miniscule budget.  Jessica Cameron manages to succeed in her maiden voyage behind the camera with material that would challenge even the most seasoned director resulting in a trashy, bloody, and violent bit of debauchery that's more than the sum of its parts.  So give it a shot, Savage Readers, but heed this advice: leave the popcorn in the cupboard and run a bubble bath first….