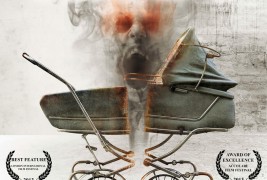 A family tragedy compels a young couple to trade their city life for one in the country. They end up purchasing a secluded house, complete with no internet, gas, or the utilities that most of us can't live without. To make matters worse, the house has a less-than-savory history and things soon begin to go bump in the night.
House of Good and Evil is written by Blu de Golyer, directed by David Mun, and produced by Phase4 Films. The film stars Mariette Marich (The Texas Chainsaw Massacre), Rachel Marie Lewis (Beacon Point), Christian Oliver (Speed Racer), Jordan Rhodes (Indian Runner), and Bo Keister (Killing Kennedy).
The movie depicts a slow descent into madness which is usually good for piquing this reviewer's interest, as do house-with-a-bad-history stories. Moreover, the production quality of the film is impressive and the acting pretty well done.
The pacing, however, is a mixed bag, and fans of faster paced "jumps and thrills" or slasher flicks may find it a little slow. While it's an enjoyable watch, House of Good and Evil is much closer to being a dark drama or a psychological thriller (with horror elements, of course) as opposed to a straight up horror movie.
Overall, House of Good and Evil is enjoyably entertaining and a worthwhile way to spend an hour and a half. If darkly dramatic material is your cup of tea, give this a try.