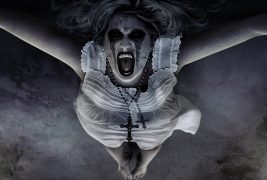 Uncork'd Entertainment dropped a trailer for Hotel of the Damned, an off the wall cannibal romp scripted by Luca Bercovici (Ghoulies).
The dastardly details and trailer lurk below, Horror Fans….
Make your reservation with the Hotel of the Damned this December via Uncork'd Entertainment.
No use hanging up a 'Do Not Disturb' sign here.  After a car accident and stranded in the middle of nowhere, an ex-con and his daughter find themselves in an abandoned hotel, populated by sub-human cannibalistic creatures. Is it check-out time, already!?
Peter Dobson (The Frighteners) and Louis Mandylor (My Big Fat Greek Wedding) star in a Bobby Barbacioru film, out December 6 on VOD.
Hotel of the Damned is scripted by Luca Bercovici, director of cult classic Ghoulies, and it co-stars Manuela Harabor, Oltin Hurezeanu, Roxana Luca, Bogdan Marhodin, Valentin Petrisor, Natalia Mateut, Florin Kevorkian, and Dimitrina Zhivkova.