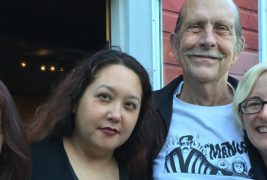 Tom Neyman passed away on Saturday, November 12th, 2016 from heart failure. Tom was best known as The Master from Manos: The Hands of Fate, but I knew him as my friend's Dad. Tom was the father of Jackey Neyman Jones who played Debbie, the little girl, in Manos: The Hands of Fate. I met Jackey two years ago when she was getting the sequel project Manos Returns together. We had an immediate rapport and became fast friends.
Jackey wanted me to direct the sequel and we started working on it right away. A few days before a production meeting in November of 2015 my Father died of heart failure. I was devastated. It happened days before his birthday. At the production meeting Jackey just hugged me and told me how sorry she was. Since then she has continued to be kind and supportive towards me. It has been a wonderful experience making Manos Returns with her and everyone else involved.
I had seen Manos: The Hands of Fate before I'd met Jackey or Tom. I was immediately struck by Tom's performance and felt a bit sad that his talent had been wasted in such a technically inept film. Jackey wanted to make the sequel a good movie. She wanted to make something that her Dad could be proud of. She wanted to create a project that she could work with her Father on. She wanted to do so not just to give him recognition and validation, but also as a way to be able to spend time with him.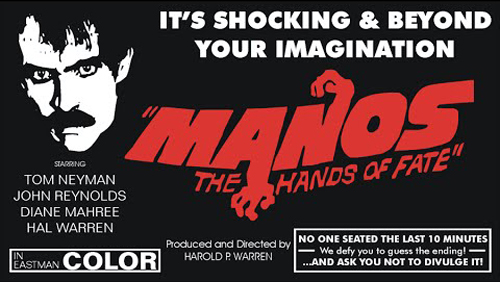 I know that Jackey and Tom had a great love for one another. I met Tom for the first time in person during the film shoot. We had a dinner as part of a Kickstarter rewards. Most of the cast and crew were there. At one point of the evening I looked over to see Jackey and Tom talking. They both had big smiles. It seemed that they could not leave one another's sides. There was a positive energy radiating from them that was almost tangible.
My Father and Tom shared the same birthday. The similarities and timeline are not lost on me. As I write this, the first anniversary of my Father's death is just two days away.  I know what Jackey must be feeling and my heart aches for her. I didn't know Tom very well. I knew him only through the film and through Jackey. However, what I saw of him was a kind and gentle man. The true opposite of the malevolent imposing character The Master. In Tom I saw a man who loved to smile and laugh. I saw a man who loved art. Most of all I saw a man who truly loved his daughter Jackey.
I wish I had been able to know him better. I am devastated that he will never see the final version of Manos Returns. However, I am comforted knowing that what he had seen he enjoyed and that he was proud to be a part of it. The Manos Returns cast and crew have become an extended family of sorts. I am deeply grateful and proud to be a part of it. Tom's passing has affected us all. I'd like to think that we will hold his spirit with us. We are blessed to have him live on in our film and our hearts. And as we all know, "he is with us, always."