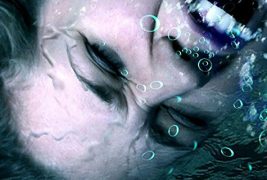 Indie Schlock auteur Jared Cohn will bring a slightly more reality-based horror tale to your screens later this month via MTI Home Video with Death Pool. 
A serial killer who drowns scantily clad wannabe actresses in L.A.?  Do tell.  Watch the trailer and read the press release below, Horror Fans…. 
Director Jared Cohn (Little Dead Rotting Hood, The Horde) marinades the screen with suspense this June with Death Pool from MTI Home Video.
Randy Wayne (Hellraiser: Judgement) gives an electric performance in a sexy, spine-chilling fusion of American Psycho and Maniac, premiering on DVD and VOD June 20. Sara Malakul Lane (Kickboxer: Vengeance), Demetrius Stear (Evil Nanny), Shawn C. Phillips (Ghostquake) and James Cullen Bressack (Bethany) co- star.
After nearly drowning at the hands of his babysitter, a troubled young man grows up to become a serial killer with a compulsion to drowned young beautiful women. Based on true events, this conniving killer becomes a cultural phenomenon, known throughout the streets of Los Angeles.
Death Pool is out 6/20.