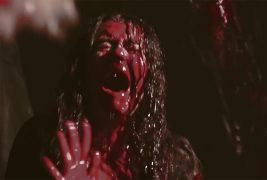 Director Christopher Douglas-Olen Ray's highly-anticipated feature Circus Kane is generating some red, splattery buzz now that its first trailer has dropped, and oh, what a trailer it is!
We don't know many of the release details about this carnival creeper other than it's supposed to be unleashed later this year at Cannes.
We do know it was written by James Cullen Bressack and Zack Ward, the latter of whom you may know as – and I apologize for incessantly writing about this – the bad redheaded kid wearing the 'coon skin hat in A Christmas Story.  Ward has become one of the most prolific indie horror screenwriters working right now in addition to his acting career.
So, this one looks promising, Horror Fans.  Read the full press release and watch the trailer below….
Home Entertainment and Theatrical Film Distributor Uncork'd Entertainment has revealed a first look at the highly-anticipated Circus Kane.
Starring Jonathan Lipnicki and directed by Christopher Douglas-Olen Ray, Circus Kane sees a reclusive circus master invite a group of social media stars to his house of haunts. Anyone who can make it out before being scared into submission will earn $250,000 — but the social media stars soon learn they are not only competing for money, but also fighting for their lives.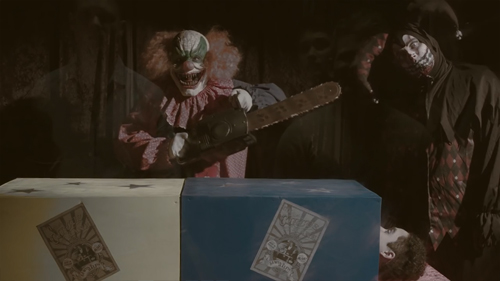 Bill Voorhees and Mark Christopher Lawrence also star.
James Cullen Bressack and Zack Ward wrote Circus Kane, based on a story by Sean Sellars. Producing are DeInstitutionalized's Gerald Webb and Christopher Douglas-Olen Ray along with Bressack.
Uncork'd President Keith Leopard made the deal with the filmmakers at AFM in November. He recently saw the first footage from the film.
"The footage I've seen is incredible – and I know horror fans will appreciate it too, so we've decided to give them a little taste," says Leopard. "We look forward to inviting everyone to the circus later this year!"
Circus Kane will be unleashed in all its bloody glory at the Cannes Film Festival in May.