Main Street Meats, the extremely long-awaited horror feature from Wisconsin-based filmmaker Jeff Lyon (this thing started shooting back in 2010!) is finally set to rear its ugly head and it will do so close to home at Madison, WI's Barrymore Theater on August 13.  The film stars a bevy of local and some not-so-local talent in what's purported to be a throwback slasher flick/bizarre gonzo-sleaze extravaganza a la Motel Hell.
As Main Street Meats dives into the festival circuit, cheeseheads can catch the carnage come August.  Read on for the full press release and watch the trailer below, Horror Fans….
Main Street Meats, a black comedy / old school slasher movie filmed entirely in The Great Dairy State, is having a world premiere screening at the Barrymore Theatre in Madison, WI on Sunday, August 13th at 7:00 PM. The story unfolds as a family-run meat shop struggling to survive stumbles onto the secret of success… and is obliged to keep up with insatiable customer demand.
Principal actors include Morgan Rae (Dead of the Night, Devil To Drag band), Steve Golla (Psycho Holocaust, The Amateur Monster Movie), Don Markus (Finding Jane, Dearwolfe), Stacey Pepper Weber (The New World Horror, The Rotten Tommys band), Charles Ramsey (The Spade County Massacre, The Amateur Monster Movie) and Linda Cieslik (Raymond Did It).
The film also includes the talent of Rex Sikes (Rex Sikes' Movie Beat) and a vocal cameo from the legendary Herschell Gordon Lewis, the Godfather of Gore himself.
Madison Psychobilly kings The Blowtorches have fired up killer tunes for the soundtrack, including "Cheerleader Grind," inspired by Main Street Meats and local favorites Devil To Drag have also lent their mad music skills to the film.
Main Street Meats is written and directed by Jeff Lyon, experienced filmmaker, writer and long-time horror movie aficionado.
For more information, including the director's blog, stills, and a teaser trailer, visit www.mainstreetmeatsmovie.com.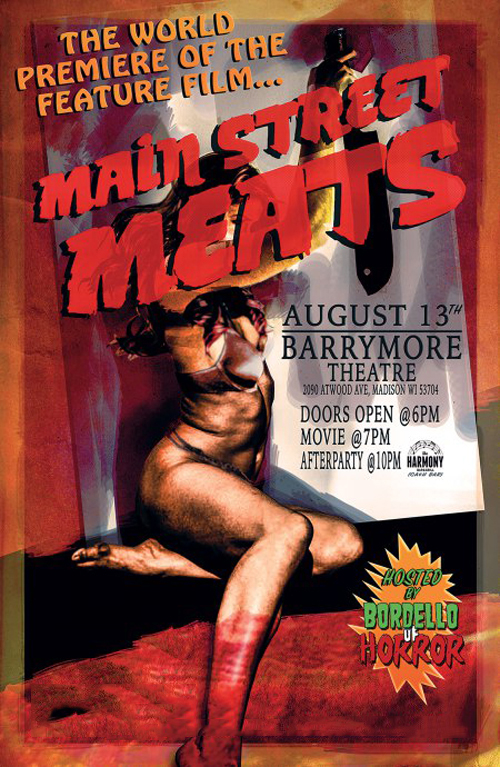 Facebook Page: https://www.facebook.com/MainStreetMeatsMovie/
Facebook Event: https://www.facebook.com/events/1806032376380512/