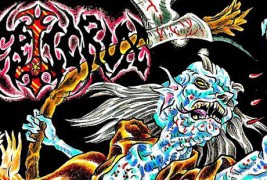 New Hampshire's horror metal maestros, Inverticrux, unleash a veritable soundtrack to our beloved genre with their debut album, Virgin Reaper.  As is typical among bands of the metallic persuasion, Inverticrux has undergone myriad lineup changes, including a not-insignificant one since this album was recorded.  The band now appears poised to assemble material for a follow up album as well as hitting the stage for several shows in the North Eastern United States.
Ravenous Monster covers horror no matter which media delivers it and Inverticrux's willingness to send us a demo to review speaks volumes about what it is they actually do.  Though everyone in the band can certainly play, these guys aren't a "musician's band" but rather they're rocking their concept to its fullest extent.  It's an odd result, and one that somehow works.   
Stylistically, the tunes on Virgin Reaper are an amalgam of metal-related musical genres utilizing elements of crust punk, death metal, and power metal, all painted over with a crimson coat of King Diamond.  These guys pile it on, from eerie piano and creepy church bells to a crying baby and over the top, horror-infused vocals and voicings.
Virgin Reaper features plenty of killer riffs by way of Terry Savastano's catchy axmanship and a hefty, fuzzed out bottom end courtesy of bassist Eirik Podhorin (Both of these guitarists have since left the group and have been replaced).  Drummer Michael Bernier keeps it simple and tasty, finding the pocket and staying in it, thereby optimizing the effectiveness of the infectious riffs.  Raypissed, the group's most assuredly insane front man, bellows out an eclectic mish mash of vocal styles awash in reverb and eliciting old school chills by recalling the vinyl and tape compilations of yore that went by names such as Haunted House Sound FX and Spooky Sounds.
When it comes down to it, Inverticrux's Virgin Reaper is largely successful.  If it has a weakness, it's the composition of the vocals.  While the musical approach is on point, the vocals could better achieve their intended results with a bit of a less-is-more approach — less dubbing and layering and more streamlining.  A little restraint would go a long way toward making the vocals more palatable.  While the theatrical, over the top style is absolutely silly outside of a horror context, I can only assume that the overall effect works brilliantly live.  However, in a studio setting the group could use a bit more refinement, a more organic integration of ingredients into a cohesive whole.
The album's highlights are many.  They include the title track Virgin Reaper, a crusty punk circle pit-inducing bit of metallic bliss, A Cautionary Tale – an odd bit of instrumentation that includes passages of harmonica, Lured by the Scent of Infants Blood – a slow and atmospheric creeper that explodes into blast beats, d-beats, and speed picking, the super doomy, heavy, and Sabbath-derived Mr. Dead/Incident at Spider Gates, and Hurt Whores – a completely punked out blitz that's pleasantly reminiscent of Celtic Frost.
The horror and metal subcultures share a substantial overlap.  If you reside somewhere within this niche, don't hesitate to track down Inverticrux at www.facebook.com/letsgetinverted and get a copy of Virgin Reaper!