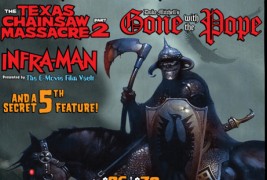 The Hudson Horror Show returns for lucky show number seven on June 8th, 2013 at the Silver Cinemas in Poughkeepsie, NY.  The show starts at noon and runs until midnight with five full length features (all from rare 35mm film prints), prizes, giveaways and a vendor's room packed with horror merchandise!
This year's lineup includes the chop-socky monster-fu classic INFRA-MAN! Presented by the B Movie Film Vault, this kaiju karate film must be seen to be believed.
This show also marks the Hudson Valley premiere of GONE WITH THE POPE (Grindhouse Releasing) and it will include official movie rosary beads that are FREE to the first 50 people through the door for Hudson Horror 7!
Tobe Hooper's gore soaked black comedy TEXAS CHAINSAW MASSACRE PART 2 will precede a 20th-Anniversary screening of ARMY OF DARKNESS, headlining the show.
Tickets are $26.00 in advance via PayPal at www.hudsonhorror.com.  Advance ticket holders will be admitted first.  If any tickets remain they will be at the door, day of show, for $30 bucks, cash only.
A vendor's room will include horror T-shirts, DVD's, toys, comics and much more. There will also be limited edition movie posters available for as long as supplies last.
Tickets are available at www.hudsonhorror.com.  Advance ticket sales will END at 11:59 PM on Monday, June 3rd, 2013. Email questions to [email protected]