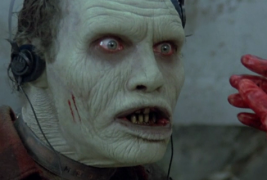 What's brain taste like? Few have a palate refined enough to know how to fully appreciate and describe the bouquet of its rich flavor, but luckily for RavMon, while I was at the Mad Monster Party in Charlotte, NC, I ran into one of the more sophisticated zombies wandering around out there and got the inside scoop on what it's like to eat like the living dead.
Some of you George A. Romero fans may only know him as Dr. Logan's pet project Bub from Day of the Dead, but actor Howard Sherman (or Sherman Howard as he's listed on IMDB) has a lot more to offer than tips on how to properly moan and groan as an undead lab experiment. He's an actor's actor and a voice actor who's played hundreds of roles on the silver screen, the boob tube and aboard the planks (theater).
I talked with Howard Sherman at the Mad Monster Party and was able to pick his brain about what it's like working with George A. Romero, attending horror cons and what brains actually taste like. You may be surprised by his answers. Check out the video below.

[P.S. The t-shirt Howard Sherman is wearing in the video is apparently one of a kind. A fan made it for him years ago, but he's never been able to find it for sale anywhere. If the person who made that shirt is watching—Howard Sherman (and I think a lot of zombie fans in general) would love to have more copies of this shirt made available for purchase, or for free – it's your call.]