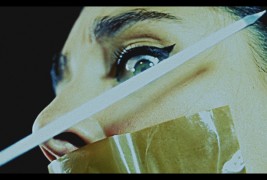 Argentina's Onetti brothers (Sonno Profondo, 2013) return with Francesca—a throwback to giallo cinema with a Latin spin that will debut this fall at Sitges. This looks to continue a resurgent Latin American horror boom in as unique a way as we've seen in quite some time. Read the full press release and view the trailer below, Horror Fans….
Francesca will make its world premiere at the upcoming Sitges Film Festival in October where it will compete in the "New Visions" category and for the "Best Latin American Production" award.
It's been 15 years since the disappearance of little Francesca, daughter of the renowned storyteller, poet, and dramatist Vittorio Visconti, and the community is stalked by a psychopath bent on cleaning the city of "impure and damned souls." Moretti and Succo, alarmed by the ineffectiveness of the police force, are the detectives in charge of elucidating the mystery surrounding these "Dante-esque" crimes. Francesca seems to have returned, but she is not the same girl who everyone knew….
Facebook: www.facebook.com/FrancescaGialloMovie