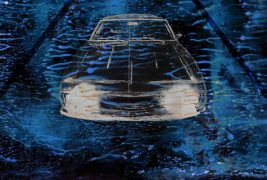 "A giallo is not a detective story, it is not a thriller, not a suspense movie, not a horror film." Rather, according to Ernesto Gastaldi in Troy Howarth's So Deadly, So Perverse, a giallo "can be any one of these things and also all of these things rolled into one." Besides being a distinctive style of filmmaking that emerged in Italy during the 1960s, the giallo genre is also a sound—an easily recognizable sonic pattern of suspenseful synth and syncopated rhythm. The undisputed masters of such music are Ennio Morricone, Goblin, and Fabio Frizzi. In their hands, sexy Italian crime dramas and gore-drenched torture sessions masquerading as horror entertainment became spellbinding soundscapes. One doesn't even need to watch What Have You Done to Solange? or Don't Torture a Duckling in order to appreciate their soundtracks.
That's essentially the idea behind Asforteri's Cactus Flower EP. All told, this record barely touches the fifteen-minute mark, thus making it only a sneeze longer than a lazy man's mile-and-a-half runtime. However, in this small bit of time, Cactus Flower EP manages to cram giallo excess in with John Carpenter-like electro pop. On "Street Shadow," the EP's second track, a wandering bass line and the sound of heavy breathing recall images of naked '70s women being stalked by perverts in rain coats and black leather gloves. "Under The Red Light…," the EP's final song, is similarly steamy, with synth work that owes as much to softcore pornography as it does to Escape From New York.
The EP's longest track, "Thirteen Notes in Black," is clear Goblin worship, with funk and rock living side by side in a world dominated by tubular bells. Oddly enough, the EP's most intentionally retro-sounding ditty, "Cactus Flower," would not be out of place in House of the Devil, It Follows, or any other indie horror film from the last five years. All told, the Cactus Flower EP has pretty simple components: easy-to-play drums, bass, guitars, and synth. Meat and potatoes, or rather spaghetti and meatballs. The only problem is that the portions are smaller than your grandma's chances of going through life without plowing her Buick into a shopping cart. Asforteri is probably only a few more EPs away from making a full soundtrack, but until that time, his music can only be enjoyed in fleeting doses.