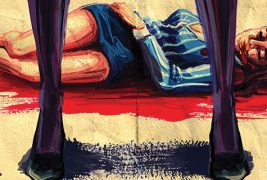 Argentinian brothers Luciano and Nicolás Onetti have a thing for giallo.  In fact, they've made one—a good one called Francesca that we've covered here before.  But now the black-gloved mayhem of The Brothers Onetti will be making its way to home video very soon and that's good news! 
Read the full press release and watch the trailer for Francesca below, Horror Fans….
Francesca is a new giallo film from Argentinian brothers Luciano and Nicolás Onetti (Sonno Profondo, 2013). The film, which made its world premiere at SITGES Film Festival in October 2015, is now coming to home video courtesy of Unearthed Films and MVD Entertainment Group.
It's been 15 years since the disappearance of little Francesca, daughter of the renowned poet and playwright, Vittorio Visconti. The community is stalked by a psychopath bent on cleaning the city of "impure and damned souls." Moretti and Succo are the detectives in charge of finding the perpetrator of these "Dantesque" murders. Francesca has returned, but she is not the same girl they once knew.
Francesca has won several film festival awards including Best Director at Buenos Aires Rojo Sangre 2015, Best Production Design at Tabloid Witch Awards – Hollywood Investigator 2015, Weird Visions Award at Ravenna Nightmare 2015, Best Giallo Film at Crypticon Kansas City 2016, and Special Mention at Horrorant 2016 in Greece.
Francesca can be ordered now at the  MVD Shop or on Amazon.