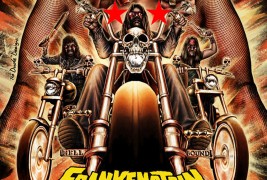 Calling all fans of weird, sleazy, badass cinema–the type that newbies call "grindhouse" and professors call "exploitation," while weirdoes like us don't talk–we just eat popcorn, drink beer and freak out: Big World Pictures and director James Bickert are preparing to create the follow up to Dear God, No!, and they're doing it on true-blue 35MM film!  Read the full press release below, Horror Fans….
ATLANTA – Feb. 23, 2015 – Big World Pictures announces its latest production, FRANKENSTEIN CREATED BIKERS, will be shot on 35mm motion picture film. The producers have unearthed 20,000 feet of unexposed Kodak Vision 3 film stock leftover and carefully stored from a major Hollywood production. FRANKENSTEIN CREATED BIKERS is the sequel to the award-winning internationally distributed Super 16mm film DEAR GOD NO! and will be shot with Arri cameras and Zeiss lenses.
"We're really excited to extend our love affair with film. The medium injects our production crew with a hand-crafted sense of pride that we don't often experience from using digital equipment," explains director James Bickert.  "Film is a real motivator; it reminds me of soda made with real sugar instead of high fructose corn syrup. You forget what you're missing until you experience it."
35mm Film Brings New Challenges
With film becoming obsolete, development and telecine post-production houses disappearing, the race is on to start principal photography on what may be the last "shot on film" horror genre picture for the production team. Big World Pictures has started a Kickstarter campaign to help get the project in motion.
"We don't want to waste this opportunity on teenagers stalked in the woods or flying CGI sharks," adds Bickert. "Our script is very ambitious with a production design that will maximize the natural properties of the medium. We're using practical effects and we really hope the fans of our previous film will contribute to getting this unique vision in the can. We believe there is a market for the films we love, making the public aware of what we're doing is the hurdle and hopefully the Kickstarter campaign can bring attention to our cause. We're offering some really great rewards for investors. "
Old School Ballyhoo and a Twisted Vision
FRANKENSTEIN CREATED BIKERS centers on the re-animation of the South's most notorious biker gang – The Impalers. Dr. Marco and his assistant are performing gruesome experiments in their asylum lab and have resurrected the thrill-kill Motorcycle Club to capture a Bigfoot containing a pathogen that will allow them to perform a human head transplant. When news of the gang resurrection draws the attention of bounty hunters, law enforcement and rival gangs, the lofty aspirations of these mad scientist starts to spiral out of control. Things get even worse for the occupants when past failed- experiments escape from the basement and the lab is attacked by a bomb-happy femme fatale named Val. Stylistically FRANKENSTEIN CREATED BIKERS pays homage to several of the production team's favorite films such as the Hammer Studio's Frankenstein series, FASTER PUSSYCAT KILL KILL!, THE BRAIN THAT WOULDN'T DIE, HORROR RISES FROM THE TOMB, THE RE-ANIMATOR and Biker drive-in pictures from the 70s. Blood, scares, nudity, action, weirdness and real explosions are on the menu, and the dessert is an underlying theme about addiction and what hampers humanity from feeling fulfilled in life. These issues are explored through the actions of really rotten characters doing rotten things – all in the context of a fun-filled smorgasbord of entertainment.
Dedicated Professionals
The self-proclaimed team of "awesome" fanatics at Big World Pictures are made up of crew members from other productions, including THE WALKING DEAD, THE VAMPIRE DIARIES, CONSTANTINE, Adult Swim's YOUR PRETTY FACE IS GOING TO HELL and TOO MANY COOKS. The camera crew worked on HBO's THE WIRE and the grip department has worked on productions that include the HUNGER GAMES and THE FAST & THE FURIOUS series. Cast members include Laurence Harvey (HUMAN CENTIPEDE 2 & 3), Celebrity Chef Jim Stacy (DEEP FRIED MASTERS, OFF BEAT EATS) and Ellie Church (TIME TO KILL, HEADLESS). The majority of the DEAR GOD NO! cast will be returning to reprise their roles.
For the Love of the Genre
The Atlanta based Big World Pictures was formed to create films by horror fans for horror fans. Shooting on film has been a binding force for the group who enthusiastically tour the country to horror conventions, festivals and theatrical screenings.
"It's all about comradery and being part of a bigger community.  Due to the bottom line of larger productions, the horror genre gets stuck in trends. Our fan base is growing quickly, and we hope to keep delivering the solid entertainment that we enjoy making. We have a deep sense of pride in what we're doing and love sharing the experience with like-minded audiences. FRANKENSTEIN CREATED BIKERS is going to electrify them," concludes Bickert.
How to Contribute
If you love film, horror movies and crazy spectacle, you can help by contributing at www.kickstarter.com/projects/1334887287/frankenstein-created-bikers-a-35mm-feature-film. Also, stay up-to-date on our latest news and happening by following us on Facebook, https://www.facebook.com/DearGodNoMovie, Twitter (@jamesbickert) and our website http://www.bigworldpictures.us.