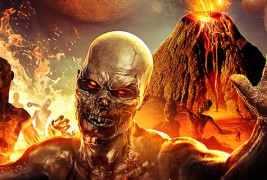 Having made a low-budget zombie film myself a few years back, I can attest to how difficult it can be to keep a film moving along in the right direction.  In The Burning Dead, director Rene Perez—an independent filmmaker with nine credits to his IMDB resume since 2010—tackles a zombie attack in a very creative way this time around and even manages to put together an entertaining way to re-kill his zombies.  He also managed to snag cult film icon Danny Trejo for this flick in the role of Night Wolf, a Native American who shows up to tell the younger generation a tale of a cursed mountain, lava spewing zombies and how Mother Nature can really be a pain in the ass sometimes.
It all starts back in 1846 in the Sierra Nevada Mountains, when the infamous Donner Party resorts to cannibalism to fight off starvation and endure the brutal elements.  Shortly after the cannibalistic events take place, a volcano erupts nearby, scorching the Earth and thus embedding the evil into the land.  At least, that's what I assume I'm supposed to assume.
Fast forward to present day, and the film centers around an estranged family that must pack up their belongings as quickly as possible and escape their mountain homes before Devil's Peak erupts.
Mindy Roberts (Moniqua Plante), her teenaged daughter Nicole (Nicole Cummins) and Nicole's boyfriend Ryan (Kevin Norman) pay a visit to grumpy grandpa "Old Ben" (Robert F. Lyons) in hopes of convincing him to leave the mountain and find safety in a nearby town.
The local sheriff, Denton (Thomas Downey), fills the admirable role of being the handsome local fella' who places the best interests of the others, including his love interest Mindy, before himself.
While the Roberts family is trying to quickly repair over a decade of family strife, Sheriff Denton is combing the mountainside for remaining townsfolk as the earth begins to tremble. As Devil's Peak begins to spew, green plumes of smoke shoot into the sky, landing in the earth and producing… LAVA SPEWING ZOMBIES!!
Sheriff Denton quickly comes across Eve Jones (Julia Lehman), a young volcanologist who sees her colleague get torn apart by the volcano zombies. They make their way through the wooded mountainside until they meet up with the Roberts family and Ryan.  Soon, the group of unlikely survivors is fighting for their lives as the lava rolls and the zombies attack.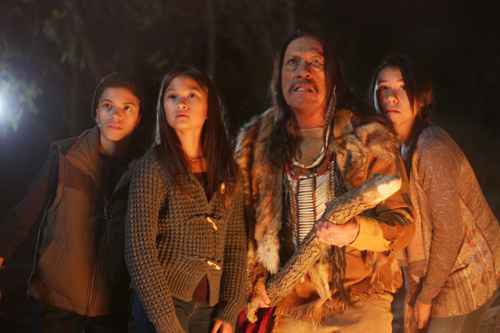 Not all zombies are created equally, with some shambling through the trees in nothing but black soot makeup and doing their best impersonation of a human raptor.  However, there are a few in the movie that are genuinely awesome-looking and with a film working on a shoestring budget, it's a small miracle this project has as much production value as it does.
The film is loaded with hokey kills (I've never seen zombies have so much trouble ripping open intestines!) and dialogue so saturated in cheesiness, you'd think you were at a fondue party.  Case in point:
"I thought the volcano was dormant?"
"It was, and now it's not."
Pure gold right there! Coupling these tasty lines with the fun special effects and gratuitous nudity (nude modeling on a mountainside never really seems like a good idea, but especially not during an impending volcano eruption) is enough to make even Lloyd Kauffman and the Troma team proud.
There is a fun premise in this film that wasn't really fully developed and that's a shame.  The historical flashbacks are unnecessary and rather than spend the money it took to get all of the re-enactment props in place, that money could have (and should have) gone toward a little more zombie madness.  Trejo is the stereotypical "big name" grab to provide the movie poster with an eye-catcher.  Granted, he is probably on a short schedule due to budget restrictions, but he could have at least been made a zombie warrior!
The Burning Dead puts valuable time and considerable effort trying to create characters with depth, that ones the audience can get behind, but it doesn't really work here.  Although, really, who watches a zombie movie for the storyline?
All in all, The Burning Dead seems like a film that was a blast to make.  Take it for what it is—a low-budget zombie flick that could probably find its way onto Syfy sometime soon.