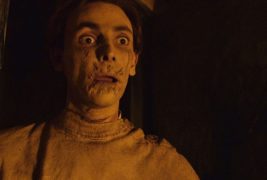 Horror Fans, The Devil Lives Here is Brazilian demonic horror at its best.  Admittedly, there isn't a ton of competition, but trust us…it's really good.  Artsploitation Films has delivered again and this time the movie is a little less weird and a little more conventionally horrific, yet it's odd enough that it fits right in with the rest of the company's output.
Read the full press release below for a list of how you can see/own The Devil Lives Here, and watch the trailer while you're at it, Horror Fans….
Four teenagers get caught up in the midst of a deadly war between dark, ancient forces in a far away countryhouse in The Devil Lives Here (aka: O Diabo Mora Aqui, The Fostering). The film enjoyed a world-wide festival run (including Sitges Film Festival, Morbido FilmFest, Brussels International Film Festival) and was the winner of Best Foreign Film at the 2016 FilmQuest. According to Scream Horror Mag the film, "Grabs you by the throat and rattles your nerves in a manner not at all unlike a Sam Raimi flick. The Devil Lives Here is the most beautiful nightmare you're likely to have in a while."
Three friends, Ale, Magu and Jorge, go on a trip to visit their friend Apolo at his family's farm for a weekend of fun. At the same time, Sebastião and his younger brother Luciano are getting ready to perform the spiritual ritual their family has been tasked with every nine months, for centuries. On the night the two groups meet, they find out that what they thought were scary tales becomes more than real. It is now up to them to prevent evil to be born and take over the world.
The Devil Lives Here is now available on the following VOD sites:
The Devil Lives Here is now available on DVD at many sites including: