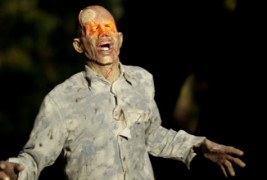 Alright, Horror Fans! We have a press release from Uncork'd Entertainment regarding an upcoming movie release.  Zombies.  Volcanoes.  Danny Trejo.  Need I write more?  Didn't think so.  Full press release and trailer below….
The top blows off when THE BURNING DEAD melts onto VOD this March!
Director Rene Perez's THE BURNING DEAD (formerly VOLCANO ZOMBIES), starring action superstar Danny Trejo (MACHETE, TV's SONS OF ANARCHY), arrives March 3rd on digital and VOD from Uncork'd Entertainment. The DVD sears DVD a month later, April 7th.
Written and produced by Jeff Miller and Jason Ancona (co-writers and producers of AXE GIANT: THE WRATH OF PAUL BUNYAN), THE BURNING DEAD pits a horde of lava-filled zombies against a sheriff charged with the plight to rescue an estranged family from a volcano eruption. Trejo plays Night Wolf, a Native American warrior who knows way too much about the curse that unearthed the coffin dodgers.
THE BURNING DEAD also features Tom Downey (AXE GIANT, SORORITY PARTY MASSACRE), Moniqua Plante ("Nashville"), Robert F. Lyons (DARK NIGHT OF THE SCARECROW, 10 TO MIDNIGHT), Nicole Cummins (LOGAN), Kevin Norman ("Melissa & Joey"), Kyle T. Heffner (RUNAWAY TRAIN, "Bizarro George" from "Seinfeld"), Julia Lehman (CHEERLEADER MASSACRE 2), Tom Nagel (HILLSIDE CANNIBALS), Jenny Lin (PIRANHACONDA), Robert Amstler (ALIEN SHOWDOWN), and Morgan Lester (JOHN CARTER).
THE BURNING DEAD filmed in several locations over three states, including around active volcanoes in Lassen Volcanic National Park, California.
Miller's and Ancona's companies produced, along with casting director and co-producer Mark Sikes.  Mel Lewis (THE BEAST OF BRAY ROAD) composed the score.
Special features on the DVD will include a commentary track; Michael Kallio's "Danny Trejo vs. The Burning Dead," an interview with Trejo; and the film's trailers.  For more information, please visit the official website at www.theburningdead.com and at www.facebook.com/volcanozombies.