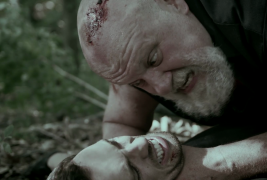 Writer/director Chip Gubera's festival freakout Slasher.com has landed a distribution deal which will bring it into your homes in 2017.  Racking up awards and boasting names such as R.A. Mihailoff (Leatherface: Texas Chainsaw Massacre III, Hatchet II) and Jewel Shepard (Return of the Living Dead), Slasher.com's availability to horror fandom at large is much anticipated.
Watch the trailer and read the full press release below, Horror Fans….
Los Angeles, CA –  MuchoMuchoMucho Productions, in association with Firefly Films, has inked a deal with ITN Distribution for the domestic release of Slasher.com.  The latest feature from horror director Chip Gubera (Song of the Dead, Academy of Doom), Slasher.com puts a gruesome twist on the perils of modern dating.
At a time when online dating could prove fatal, Jack (Ben Kaplan) and Kristy (Morgan Carter) decide they're ready meet in person. Aiming for an adventurous first date, they plan a weekend getaway to the woodlands of rural Missouri. While discovering each other, they soon learn of the terrorizing horrors that the forest has in store.
The upcoming release follows a successful run on the indie film festival circuit.  Slasher.com took home awards for Best Feature Film at the Bloody Horror International Film Festival in Ottawa, Best Horror Feature at the Hollywood Boulevard International Film Festival, and Best Screenplay at the Optical Theatre Film Festival in Rome.  Jewel Shepard and R.A. Mihailoff were nominated for Best Actress and Best Supporting Actor respectively at the Optical Theatre Film Festival.
The deal was negotiated between the producers, led by executive producer Debbie Kaplan, and ITN President Stuart Alson and Vice President Nicole Holland.  ITN is planning a home video release in 2017.
Ahead of ITN's release, Slasher.com will continue to screen on the festival circuit, appearing next at the PDXtreme Film Fest in Portland.