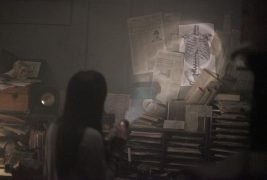 Andrew C. Erin's forthcoming feature Havenhurst is the type of indie horror film that us horror nerds yearn for: It's stylish, it boasts big-budget production values, and it features a cast of genre A-listers including Julie Benz (Buffy the Vampire Slayer, Deter) and Danielle Harris (Halloween 4, Hatchet).
Havenhurst is coming to screens great and small next month.  Read on for the full details and watch the trailer below, Horror Fans….
Los Angeles, CA – Brainstorm Media and Twisted Pictures have announced the February 10th limited theatrical and nationwide Cable VOD and Digital HD release of Andrew C. Erin's Havenhurst. Co-written by Erin (Sam's Lake, Simple Things) and Daniel Farrands (Amityville: The Awakening, Haunting in Connecticut, The Id), the film stars genre vet (Julie Benz, Defiance, Dexter, Buffy the Vampire Slayer) as a woman battling her own demons while trying to uncover what happened to her apartment's previous tenant (Danielle Harris, Halloween 4 & 5, Rob Zombie's Halloween, the Hatchet franchise). Havenhurst will debut in Los Angeles at the Laemmle Music Hall.
Havenhurst will also begin weeklong theatrical runs in San Francisco, Denver, Philadelphia, Atlanta, Houston, Kansas City and Phoenix.  Nationwide, Havenhurst will be available on Cable VOD and Digital HD platforms, including Charter Spectrum, Comcast, DirecTV Cinema, Dish, iTunes, Amazon Instant Video, Google Play, Vudu and more.
Benz and Harris are joined onscreen by Fionnula Flannagan (Little Secret, Defiance, Lost), Belle Shouse (Secrets and Lies, A Million Ways to Die in the West), Josh Stamberg (The Affair, Parenthood), Toby Huss (Big Bear, Halt and Catch Fire), Jennifer Blanc (Among Friends, Good Family Times), Matt Lasky (The Purge: Anarchy) and Douglas Tait (Jack The Reaper, The Quest).
Welcome to Havenhurst, a gothic apartment complex in the heart of New York City. A beautifully maintained, turn-of-the-century building that houses over 3,000 residents and countless dark secrets. The rent is what you can afford and the rules are simple: live a decent life and you can stay forever. Break the rules and there are consequences.
Los Angeles Theatrical Release:
Friday, February 10, 2017
Laemmle Music Hall 
9036 Wilshire Blvd
Beverly Hills, CA 90211