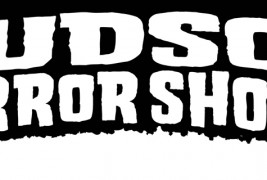 One of the East Coast's best horror film fests—the Hudson Horror Show—returns to Poughkeepsie, NY in May with an all-35mm line up of genre classics. Read the full press release below, Horror Fans….
03-15-2016—Now in its sixth year, Hudson Horror Show continues to be the fastest growing retro horror film festival in New York. Fresh off another sold-out triple feature at the Alamo Drafthouse in Yonkers, NY, Hudson Horror Show returns to its stomping grounds, the South Hills Cinema 8 in Poughkeepsie on Saturday, May 14th, 2016 for Hudson Horror Show 13!   This all-day event will start around noon and run past midnight, showing six full-length horror/cult movies, all on vintage 35mm film. That's twelve hours of movie madness for only $35.00! Tickets are exclusively available at www.hudsonhorror.com.
While theaters around the country are ditching 35mm film in favor of all-digital film presentations, Hudson Horror Show recently retro-fitted one of the theaters at South Hills Cinema 8 from digital back to 35mm film! HHS #13 will be held on two screens, but one screen is already sold out, so get your tickets for the remaining theater while you can.
So what are we showing in May? Hudson Horror has been threatening to show a blaxploitation movie for years and thanks to our friends at Vinegar Syndrome we are proud to present DOLEMITE!! Be prepared for the Rudy Ray Moore classic which is easily the most politically incorrect movie we've ever shown!
You've seen the sequel, now it's time for the original, Robert Englund's star turn in 1984's A NIGHTMARE ON ELM STREET! With John Saxon, Heather Langenkamp and Johnny Depp, this is the movie that turned the slasher genre on its head and made Freddy Krueger a household name.
Just when you thought it was safe to go back in the water, HHS presents JAWS 2!!! The giant fish movie that many feel plays like a slasher flick, the shark sequel brings Bruce back to Amityville and the results are just as disastrous. JAWS 2 rarely gets any play theatrically and we are pleased to have this as part of our show.
Presented by The B-Movie Film Vault, we are excited to be screening NIGHTBREED! Clive Barker's monster mash features more on-screen creatures than any other movie ever filmed. The original theatrical cut from Clive Barker is still the most entertaining version of the movie out there and after six years we are pleased to finally have this at a Hudson Horror event.
On top of all that we will have not one but TWO MYSTERY HORROR MOVIES!! Want to know what we are showing? Get your tickets and find out!
HHS is thrilled to announce that Louis R. Pisano who co-authored Jaws 2: The Making of the Hollywood Sequel (with Michael A. Smith) will be in attendance! Louis will have copies of this amazing fact-filled Jaws book on hand and will be signing at the show.
Of course we'll have vendors galore with DVDs, shirts, toys and collector's items; there will be door prizes, giveaways and so much more. That's 12 hours of fun for only $35.00 a ticket! Each ticket sold comes with a free Hudson Horror Show/Leatherface spoof sticker. Theater 6 is already sold out; get your tickets for the remaining theater now at www.hudsonhorror.com! If you have any questions, shoot us an email at [email protected]. We'll see you at the South Hills Cinema 8 in Poughkeepsie on May 14th for Hudson Horror Show #13!