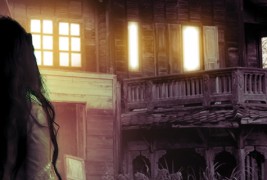 Cary Elwes deserves a better fate in A Haunting in Cawdor.
Distinguished veteran of The Princess Bride, Glory, and Saw, to name a few, here Elwes elevates a script long on potential but short on results. It's a shame, too, given such a promising start.
Vivian Miller (Shelby Young) is a troubled young woman who found herself on the wrong side of the law and planted on a psychiatrist's couch. With medication and a modicum of improvement, she finds herself on a bus headed to the Cawdor Barn Theatre as part of a 90-day work-release program intended to rehabilitate miscreants. In addition to chores, the group is expected to stage a production of Macbeth, the Shakespeare tragedy that is often thought to hold a curse for thespians who utter its name in the theater.
Elwes is quite believable as Lawrence O'Neil, director of the camp and a one-time Broadway big shot as evidenced by the Tony Award sitting in his office. He exudes a sense of dignity and accomplishment even though it's clear he has his own set of demons to exorcise.
His right-hand man is Chuck (Charlie King), a tough-as-nails ex-con whose job is to keep the delinquents in line — not always an easy job, given the usual mix of wise-asses (most notably Brian, played by Phil Black), fun girls (Tina, played by Bethany Edlund) and assorted others.
Lawrence is determined to produce a laudable, perhaps therapeutic Macbeth. He holds auditions, assigns technical positions, and begins dress rehearsals. And as one might expect, Vivian is cast as Lady Macbeth, all too appropriate given her proclivity for disturbing visions. She's also the only one who seems to interact with Roddy (Michael Welch), a mysterious visitor who pops in unannounced from time to time.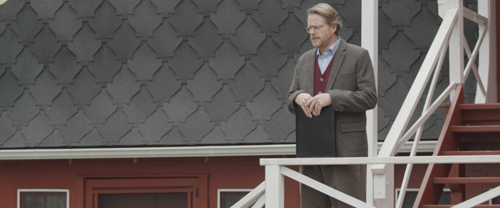 Is he the "tragedy" alluded to in a previous Macbeth at Cawdor?
Therein lies the problem. Written and directed by Phil Wurtzel, this film gets credit for strong performances (at least from the leads), decent cinematography, pretty good dialogue and an interesting premise. Unfortunately, it also gets credit for a murky ending that plays almost like a hurry-up-and-end-this-thing afterthought.
Its ultimate failing is that it's only mildly creepy, never really scary and only occasionally suspenseful. A more alliteratively appropriate title might have been A Calamity in Cawdor. For while it's short on haunts, it does lurch from one snafu to the next.
In fact, you might find yourself rooting for an actual production of Macbeth. The filmmakers don't take it that far, so we're left with a rather tepid flick that Shakespeare himself might call a disappointment.
So that's a thumbs down from the Bard. And he speaks for me.