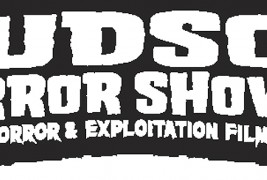 Alright, Horror Fans.  Hudson Horror Show, one of the best horror film fests in the country returns to Poughkeepsie, NY this June with a great line up of vintage horror and exploitation all on 35mm along with vendors and guests!  Tickets go on sale this Saturday, March 28th.  Check out the full press release and trailer below….
Fresh off a sold out show at the Alamo Drafthouse, Hudson Horror Show returns to the hallowed grounds of the Empire South Hills 8 in Poughkeepsie, NY!  In our sixth year and presented by Vinegar Syndrome and the B Movie Film Vault, Hudson Horror #11 is a 12-hour retro film festival, with all movies being presented from vintage 35mm films.
Show #11 features five full length movies plus dozens of retro trailers and ads, plus vendors selling horror related toys, t-shirts and more!  B Movie Film Vault will open the show with A MYSTERY MOVIE!  We don't know what it is, but we know it will be good.  OK, maybe it will be bad.  But we guarantee it will be fun, and it will be 35mm.
Vinegar Syndrome presents a very special screening of MADMAN!  While they have digitally restored this cult slasher for their beautiful new DVD/Blu Ray special edition (which they will have for sale at the show) they will be presenting an original release 35mm print of this long lost shocker! To make it even more special, MADMAN producer Gary Sales and Madman Marz himself, actor Paul Ehlers, will be in attendance to introduce the movie and do a live Q &A!
We love a good revenge story and one of the truly best is Ms. 45!  Abel Ferrara's rape/revenge flick is just as powerful as ever and we are pleased to get this gritty grindhouse meets arthouse classic back up on the big screen at Hudson Horror Show #11.
It's time to get weird with the awesome awkwardness of NIGHTMARE ON ELM STREET 2: FREDDY'S REVENGE!  The first of the many Elm Street sequels is celebrating its 30th anniversary and that makes it high time to bask in its insanity.
We'll close the show with a whopper of a tale and arguably one of the greatest movies of all time, a special 40th anniversary screening of JAWS!  No clean, digital restoration here as, in true Hudson Horror style, we are presenting a beautifully weathered vintage 35mm film print!
Our last show was a record setting advance sell out and tickets for this show will go on sale Saturday, March 28th, 2015 at 12pm E.S. T.  Advance tickets are just $31.00 for 12 hours of movie madness! Click here on March 28th:  http://www.hudsonhorror.com/purchase-tickets/.
As always we'll have vendors selling toys, DVDs, t-shirts and other merchandise.  Vinegar Syndrome will be set up selling copies of MADMAN and all of their other DVDs and Blu Rays.  If you are interested in being a vendor, or if you have a question about the show, shoot us an email at [email protected].  Keep watching our website and Facebook page for more info and we'll see you on Saturday, June 13th, 2015 for Hudson Horror Show#11!
http://www.bmoviefilmvault.com/