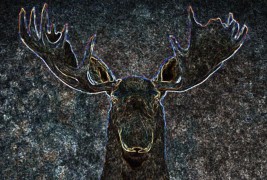 There's one week left to contribute to the Indiegogo campaign for The Moose Head Over the Mantel, an unorthodox indie horror feature from the people behind the movies The Big Bad, They Will Outlive Us All, and the upcoming The Passion of Paul Ross.  Jessi Gotta's New York-based Inappropriate Films is the latest endeavor from someone who makes outstanding genre cinema and The Moose Head Over the Mantel looks to build upon that legacy!  Read the full press release below, Horror Fans….
THE MOOSE HEAD OVER THE MANTEL is a feature-length gothic horror film following several generations of an American family wrought with a history of violence, from the 1880s through the 1980s.
The film centers on Lillian Hoffhienze-Bachman and Jay Bachman, a married couple who have just moved into the Hoffhienze family home with their troubled son, Nicholas. Lillian soon becomes obsessed with her sordid ancestry, terrified that the past might dictate young Nicholas' future. The family's gruesome history is presented as a series of intercut chapters, with each adding another piece to the shocking puzzle that is the violent Hoffhienze legacy.
Taking place entirely in the dining room of the Hoffhienze home, the story is seen primarily from the perspective of the moose head hanging over the mantel. The moose head is both the silent witness of the horrible events that have taken place over the course of one hundred years, and the family's inadvertent prisoner.
The story is influenced and inspired by the lives of H.H. Holmes, The Bender Family, Lizzie Borden, Gary Gilmore, Carl Panzram, The Fox Sisters and The Davenport Brothers, as well as the Spiritualism movement of the late 19th and early 20th centuries and the rise of psychiatric pharmacology in the 1970s and '80s.
THE MOOSE HEAD OVER THE MANTEL is produced by Jessi Gotta and Bryan Enk, who previously collaborated on the horror feature, THE BIG BAD (2011, distributed by Phase 4 Films and available on Netflix Streaming), and on the horror short, ANNIVERSARY DINNER (2012, featured on the Scream Queen Filmfest Tokyo Tour 2013-2014). Gotta's recent solo projects include the horror comedy feature, THEY WILL OUTLIVE US ALL (2013, to be distributed by Wild Eye Releasing in May 2015), and the horror short, LATE NIGHT LOCAL (2014), and Enk is currently in post-production of his suburban mystery, THE PASSION OF PAUL ROSS (due in 2015).
The film will feature the work of six directors: Jane Rose, Matt Gray, Shannon K. Hall, Jessi Gotta, Rebecca Comtois and Bryan Enk, each focusing on a different time period of the Hoffienze family history: the 1880s, the 1900s, the 1920s, the 1940s, the 1960s and the 1980s.
Contributions to THE MOOSE HEAD OVER THE MANTEL can be made via the project's Indiegogo page: https://www.indiegogo.com/projects/the-moose-head-over-the-mantel