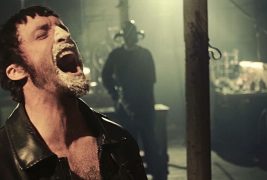 Forgive the pun, Horror Fans, but the Brothers McCarthy—Kevin A. McCarthy and Michael McCarthy—have put together one hell of a crazy exploitation flick with Crazed, out now digitally and coming to DVD next month.  But don't take my word for it.  Watch the trailer below.  It's cra— …um, it's INSANE!
Horror icons Kane Hodder (Jason Goes to Hell) and R.A Mihailoff (Texas Chainsaw Massacre III) join Michael McCarthy and Jordan Elizabeth in the wickedest and bloodiest revenge thriller since The Crow.
On digital 10/4 and DVD on 11/8, Crazed is a pulsating tale of justice from the dark alleys of Harbor City, with crazed vigilante cop Ronan Pierce (McCarthy) out to avenge the loss of his family to the evil Luna Cartel. Responsible for both his daughter's death and his wife's abduction, the Cartel enslaves thousands of young women from around the world and harvests organs from its other victims. Pierce delivers horrific punishment to an assortment of psychotic criminals on his way to bloody justice.
Scripted by Kevin A. McCarthy and Michael McCarthy and directed by Kevin McCarthy (with guest director Edward Payson), Crazed pierces this October from Uncork'd Entertainment.