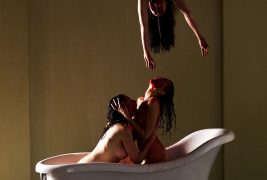 Artsploitation Films is poised to unleash yet another flick that finds the proverbial line and then lustfully leaps over it with Vampyres—an English language remake of the 1974 blood-and-boobs extravaganza, this time directed by Victor Matellano and starring the legendary Caroline Munro.
Watch the NSFW trailer and read the press release below and get your cold, hard cash ready to buy this next week, ya cretins!
Faithful to the sexy, twisted 1974 cult classic by Joseph Larraz, Vampyres is an English-language tale that pulsates with raw eroticism, wicked sado-masochism and bloody, creative gore.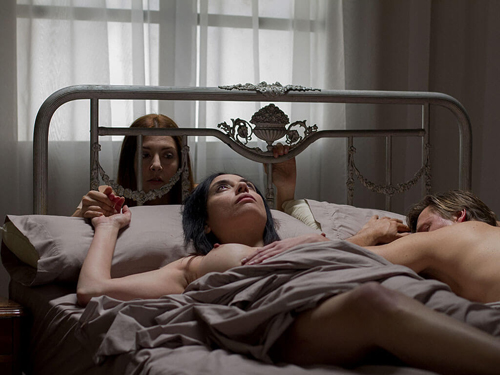 Director Victor Matellano (Wax, 2014; Zarpazos! A Journey through Spanish Horror, 2013) sets his story in a stately English manor inhabited by two older lesbian vampires and with their only cohabitant being a man imprisoned in the basement. Their lives and lifestyle are upended when a trio of campers come upon their lair and seek to uncover their dark secrets, a decision that has sexual and blood-curdling consequences. The film is infused with eloquent and atmospheric cinematography, impressive special effects makeup from master Colin Arthur (The Neverending Story, Conan the Barbarian, 2001: A Space Odyssey) and stars screen genre icon Caroline Munro (The Golden Voyage of Sinbad, At the Earth's Core, The Spy Who Loved Me, Maniac, Slaughter High).
Vampyres
Street date: October 18, 2016
DVD            SRP: $17.99
UPC:           851597006285
Director:     Víctor Matellano
Starring:     Caroline Munro, Christian Stamm, Veronica Bacorn, Marta Flich, Almudena León
Country:     Spain
Language:  English
Year:           2015
Run time:    82 Minutes
Sound:       5.1 Dolby Digital