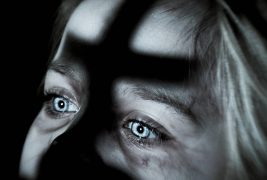 Leave it to the reliably boundary-smashing folks at Artsploitation Films to release a serious, terrifying Nazi ghost movie by way of Norway.
Director Reinert Kiil—who also helmed one of our favorite holiday horror flicks of recent years—made The House a few years ago and early next month Artsploitation Films will be the first to unleash it on unsuspecting Americans…digitally and via DVD, of course.
Please read excerpts of the press release and watch the trailer below, Horror Fans….
Artsploitation Films will release Norwegian director Reinert Kiil's (Christmas Blood) horror film The House (original language title Huset) March 5th. Artsploitaiton Films' president Raymond Murray said, "It may have taken a few years for the film to get to American audiences, but I am sure horror fans as well as arthouse film-lovers will enjoy this creepy, thought-provoking ghost story."
Set in the frozen wilderness of Norway during WWII, two German soldiers escort a Norwegian soldier and prisoner of war, but the weather is taking a toll on them. They find an empty house near the forest where they finally can get some rest. However, what seems to be a warm and welcoming shelter turns much more sinister and deadly. They begin to wonder if they have somehow stepped into a sort of psychological hell from which there may be no escape.
The House will be available March 5th on DVD and Digital HD, including iTunes, Amazon Instant Video, Google Play, Vudu and more.