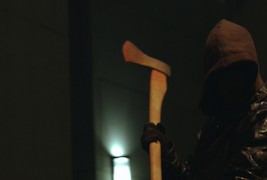 Principal photography wrapped August 16th on the Copperheart Entertainment produced Darknet, the Canadian horror anthology web and television series designed for the 21st century internet mindset.  Darknet is adapted from the cult Japanese television series, Tori Hada, by Vincenzo Natali (Haunter, Splice, Cube) and Steven Hoban (Haunter, Splice, Black Christmas, Ginger Snaps).  Darknet is an experimental hybrid web and television series in which fans will be able to contribute their own scripts and even upload fully completed segments to the web after the first six prototype episodes have been unleashed on the world this fall.
The pilot episode of the series goes online in September at http://www.superchannel.ca/ and http://www.darknetfiles.com/, followed by a broadcast premiere of the series in early 2014. To launch Darknet, Rue Morgue Magazine will host a panel on August 24, 2013, 11:15 AM in Room 703 at Toronto Fan Expo (Festival of Fear), featuring Executive Producers/Directors Vincenzo Natali and Steven Hoban, Director Rodrigo Gudiño, and cast David Hewlett and Michelle Alexander.  At that time there will be a sneak peak of the first Darknet trailer.
The prototype season of Darknet consists of six episodes that weave together bite-sized servings of urban horror.  These episodes will appear exclusively in Canada on Super Channel, and segments will be made available to fans at the Super Channel and Darknet websites.  Darknet offers snippets of people's lives being interrupted by vivid instances of unexpected violence or shocking strangeness.  Shot in a visceral style that cranks up the creep factor, viewers become part of the Darknet, a mysterious closed network of disturbing imagery and stories that exist just under the surface of our ordered and safe society.
Darknet is directed by Natali, Hoban (making his directorial debut), Brett Sullivan (Orphan Black, Gingersnaps 2: Unleashed), Rodrigo Gudiño (The Last Will and Testament of Rosalind Leigh) and newcomers Anthony Scott Burns and Jeremy Ball.  The writers are Natali, Pascal Trottier, Doug Taylor (Splice), James Kee, Randall Cole (388 Arletta Ave) and Sarah Larsen. Darknet is executive produced by Vincenzo Natali and Steven Hoban, producers are Jensenne Roculan, Mark Smith (Haunter, 388 Arletta Ave), Paul Rapovski (Lost Girl) and supervising producer Kana Koido.